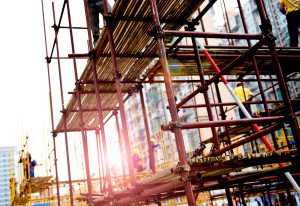 shutt
£500,000 of new funding is available to train scaffolders in the North East of Scotland in an attempt to counteract the growing demand for scaffolders and a lack of training in the area.
The Construction Industry Training Board (CITB) will fund the new scaffolding training centre in the region, meaning would-be scaffolders will no longer have to travel to Inchinnan, Renfrewshire, for CITB training.
The CITB said "new top quality courses" will be brought to where they are needed most. The organisation is encouraging training providers to bid for the funding, with the facility scheduled to open in September 2016.
Alex Birks, CITB's Head of Strategic Training Provision said, "There is growing demand for scaffolding courses in the North East of Scotland, which is why we are pleased to fund a new training facility in the region.
"The centre will provide young people with superb opportunities to learn new skills and start rewarding, fulfilling careers in construction.
"The successful bidder will work with CITB and our partners to provide high quality training and help meet the skills needs of the construction sector in the North of Scotland."
To register your interest and receive a copy of the Invitation to Bid document please email scottish.tender@citb.co.uk