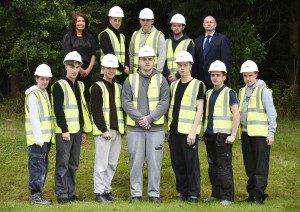 Cruden Building & Renewals Limited has taken on four successful candidates to its coveted 'Modern Apprenticeship Scheme', as it maintains its commitment to addressing challenges posed by a sector-wide skills gap.
Paul Conway, Michael Quigley, Reece Sutherland and Kieran Murphy have all started training with Cruden after being recruited following a pre-apprenticeship programme and attended training courses with Jobs & Business Glasgow.
Two of their fellow Glaswegians have also been handed a lifeline that could potentially change their lives forever.
Thanks to sponsorship by Action for Children, Sanctuary Scotland and the Wheatley Group, Cruden were able to take on two more apprentices. Kenneth McCarvel (20), of Milton and Zoe Hume (18), from the Knightswood area of Glasgow, were sponsored to undertake a year of general labouring with Cruden. They were trained, assessed and offered the opportunity to sit – and subsequently pass – an apprenticeship entrance exam.
Their hard work and dedication means they have both secured a four year apprenticeship with Cruden in conjunction with CITB, offering them the potential to acquire skills and workplace qualifications which could change their lives forever.
Thanks also to sponsorship by the Glasgow Guarantee, Cruden Building & Renewals were able to take on another three apprentices, Jason Henderson, Taylor Ross and Jonathan Findlay.
Paul Boland, HR Manager for Cruden Building and Renewals, said, "We remain committed to supporting local employment, education and economic opportunities and are delighted to welcome the latest raft of youngsters to what is now our long established apprenticeship programme."
Three of the apprentices – Kenneth McCarvel, Kieran Murphy and Zoe Hume – are being supported by Wheatley Group, Scotland's leading housing, care and community regeneration organisation. The Wheatley Pledge is a £1.5million scheme which encourages contractors and suppliers to do more to help people who live in Wheatley's neighbourhoods.
Wheatley Group Director of Property, Alex McGuire explained, "We always want to increase opportunities for young people in our communities and help them fulfil their potential. We're delighted to support these three young people at the start of an exciting career with Cruden."