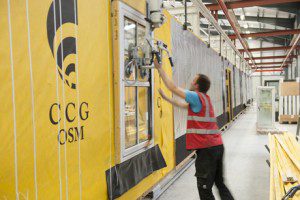 CCG's offsite manufacturing approach has been tipped to reduce the time it will take to build a new South Lanarkshire primary school.
The next phase of the local council's £800m + primary school modernisation programme has started, with  work commencing on a second new primary school in the Biggar area.
The 900 sq metre Abington Primary will be built to the north of the existing school on a vacant area of ground.
The facility will feature two modern classrooms, a nursery, a combined dining and gym hall with fixed stage and a multi-use games pitch.
Underfloor heating and ground source heat pumps with photovoltaics to utilise solar energy will also make the building more environmentally efficient.
Calum Murray, Director of CCG (Scotland) Ltd explained, "With work on the nearby Libberton Primary School well underway, we are delighted to continue to support the delivery of South Lanarkshire Council's school modernisation programme at Abington Primary.
"Using our coveted offsite manufacturing approach we will complete the new school in a short build time and to a factory quality standard.
"In addition, we will engage our research and development division to maximise the benefits of the energy measures being installed."
During the construction period, pupils and staff will remain in the existing school.
Councillor Jean McKeown, chair of South Lanarkshire Council's education resources committeeadded, "The new Abington Primary school will undoubtedly be an asset for the school community, providing a state-of-the-art learning environment which is also eco friendly.
"Pupils and staff will enjoy watching the building take shape over the coming months."
The project is schedule to be complete by summer next year.