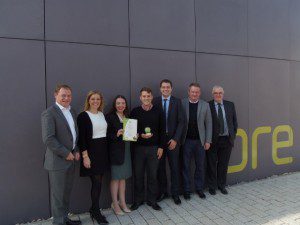 BRE's Innovation Park in Ravenscraig scooped a top award at the Green Apple Awards in Edinburgh which recognise, reward and promote environmental best practice around the world.
BRE fought off stiff competition to win the Gold Award in Building and Construction for its work at the Innovation Park in Ravenscraig – a mini-demonstration community of homes and buildings tapping into world changing invention and innovation.
Rufus Logan, BRE Director for Scotland said, "At BRE Ravenscraig Innovation Park, we aim to blend science and technology with innovation and entrepreneurship, to develop solutions for existing and future buildings not only in Scotland but in the UK, in Europe and around the world. Our team of experts works hand in hand with our partners at the Park so to be recognised is testament to the work carried out, on a daily basis."
Within the BRE Innovation Park in Lanarkshire, there are currently a number of projects on site including Zero Waste Scotland's Resource Efficient House and Scottish company AppleGreen's design for an affordable, energy efficient home. The Park is also home to the Curriculum House which has been designed by the brightest architectural and construction students from New College Lanarkshire and is the first 'live' higher level educational project of its kind in the UK. Also located at the Park is the Refurbished House, a recreation of the four in a block home, which demonstrates a range of innovative retrofit solutions for some of the most energy inefficient homes across Scotland and the UK.