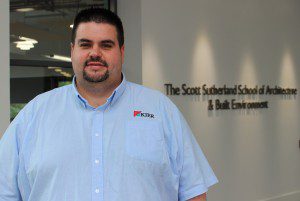 AN ex-construction management student at Robert Gordon University (RGU) has returned to play a pivotal role in the university's latest addition to its campus development.
Ewan McDonald (32) spent six years working as a bricklayer before making the decision to study Construction Design and Management at RGU's Scott Sutherland School of Architecture and Built Environment.
Eight years after graduating, Ewan found himself back at the university's Garthdee campus – this time in the role of Project Manager with Kier Construction for the build of the new Scott Sutherland School.
"It's an unusual opportunity to be able to be involved in the replacement of the facility that I studied in," Ewan said. "When I heard that Kier had won the contract I was very keen to be involved with the project. My links with the Scott Sutherland School have been helpful as I knew a lot of the staff. I worked as part of the project management team on the new building, with key tasks including organising the day to day running of the project, controlling costs and reporting and liaison with the client. Health, safety and environmental matters on site were also part of my role."
After obtaining his degree at RGU, Ewan went into a project manager role with Robertson Construction where he worked for around seven years before starting his current role with Kier Construction.
"I felt that I was not going to be out on sites all my working days," Ewan explained. "The best route and something that interested me was coming to do a degree. I gained a lot of theory behind the practical knowledge I gained on site. I think my mix of onsite bricklaying and academic knowledge provides me with the ability to really connect with the guys on site and also provide a service to both my employer and the client."