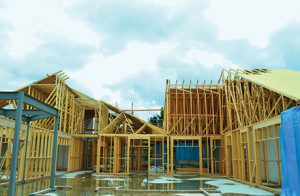 Ochil Timber Products has designed and delivered 1600 timber trusses to the value of £195,000 to create the roof of a major new school in Linwood, Renfrewshire.
The school, approved by  Renfrewshire Council in 2013 and scheduled for completion in August 2016, will provide specifically for children and young people with severe and complex needs.
To cater for the diverse needs of this new school community, the project, costing £15.5 million, comprises 6,500 sq m of single storey timber frame, both open and closed panel; trussed rafter roof; and in addition to the usual range of school facilities it also incorporates two pools, a warm water training pool and a hydrotherapy pool.
Despite its size, the building's external architecture, part of the overall design by Renfrewshire Council's architects, manages to be  reassuringly domestic, featuring low rise buildings with various heights of pitched roofs.
Brendan McWilliams, contracts manager with main contractor CBC said, "We are now halfway through the project and are currently on programme.
"Given the scale of the building we decided to construct it in five zones, and this approach is working very well.
"The challenge in this project lies in the size and scale of the building, but the design is excellent and, with the incorporation of the timber and the trussed roof, the school will complement its surroundings perfectly."
As the structural timber frame nears completion, managing director for timber frame supplier CCG OSM, Steven Earlie, is also very positive. He added, "Despite the size, complexity and tight build schedule, things have gone well on site. This is in no small part due to our policy of engaging early with suitably technically-minded sub contractors, who can deliver a large and complex project like this."
On that basis CCG OSM brought in Ochil Timber Products to supply the roof structure. Main challenges for Ochil were again size and complexity. Rather than standard, flat, ceilings in the classrooms and corridors, the roof design incorporates a series of airy, vaulted ceilings, up to 5.5m high, with large glazed areas, designed to flood the spaces below with natural light.
Ochil's MD Andrew McAree explained, "It is an amazing design, with incredible engineering. When I looked at the roof I knew it could be done in trusses, but I just hadn't seen it done before on this scale. Our detailed design challenge at Ochil was to turn concept into reality and to ensure it all fitted perfectly on site.
"It was vital that we were accurate to within the millimetre in our manufacture. 4mm or 5mm out and we would have thrown the roof off completely."
The design required spans of up to 21m, so the roof trusses had to be manufactured and delivered in three sections and re-assembled on site.  All 1600 roof trusses have now been delivered.
Andrew McAree concluded, "Everything came together beautifully, with the joiners on site showing exemplary skill in erecting the frames and trusses." All the roof trusses were designed and fabricated offsite in Ochil's Denny factory.