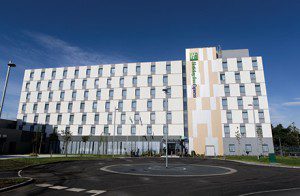 Aliva UK worked with Belfast architects White Ink to provide a stunning, durable facade for the Holiday Inn Express hotel at Aberdeen Airport.
White Ink wanted an insulated silicone render that would not only look good, but cope with the extreme weather conditions often found in northern Scotland.
The hotel is very exposed to the elements, and all the associated pollution of being close to an airport, so there was an important requirement for a render that could self-clean.
Aliva had worked with White Ink on three other major hotel projects where insulated render was specified: The Ibis in Brighton, Jury's Inn, London and Premier Inn, Woking.
White Ink wanted the 193-bed hotel to retain its fresh sharp and attractive appearance. Silicone render was ideal because of its inherent self-cleaning properties.
The silicone allows rainwater to bead on the surface and then run down, taking dirt and grime with it. Aliva's silicone insulated render has also been formulated with anti algaecides and anti fungacides, proven to retain both colour and clarity for longer than standard textures.