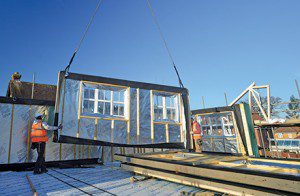 By Mike Stevenson, Development Director for offsite and new-build fenestration specialists Sidey Limited and founding partner of the Fabric First Academy 
IT has almost come up on us unnoticed that the make up of the population in the UK has changed dramatically. Of course it has been changing for a long period of time, but it is only now that there is this sudden realisation that it definitely has changed and that this is going to have a dramatic impact on the future of construction in the UK.
We are all well aware of continuing population growth.  But growth in itself is not the major factor behind housing shortages and housing demand. It is the needs of that changing population which is creating many of the issues. For many decades it seemed that the 'family' home was the only mainstream housing needed. But now so often the family is broken and whereas once a three-bedroomed house was the norm now there is a need for two houses for many families, and with a very different building footprint.
There is also the need of a younger population which is finding it so difficult to get on the property ladder and is therefore creating a demand for more and more flats and apartments. And of course there is immigration bringing with it yet more different housing expectations and needs, and often in areas where there is already a massive housing shortage.
The point of all of this is that future design and construction will have to take these facts into account and that brings with it a whole new set of issues to contend with.
What is the standard house of the future? Is it one bed, two bed or three bed accommodation? How do housebuilders think about this from a planning permission perspective, and how do architects and constructors design their buildings?
Increasingly housing developments will be very different from what they have been in the past. The pressure on land availability and land cost will increase further, and design practices will need to take advantage of any and every solution which is available to them to meet these new challenges.
Offsite construction, which is already growing as a market sector, will have an even bigger role to play. With the certainty offsite brings from a design and construction perspective, and with its supply chain partnerships already geared to developing choice and cost effective solutions, its importance to architects, designers and constructors will continue to grow.
By looking more closely at offsite construction many of the new challenges which housing designers and developers are going to face in the future can be offset. The ability of the offsite sector to deliver structures into confined inner city construction spaces as smaller pockets of land are utilised to meet housing demand, without the need for huge construction compounds, will bring its own benefits.
Faster on site construction periods along with predictability of the delivery time and cost, will also help architects and constructors to be more confident when offering their clients a service.
I have spoken before about the staggering performance of the construction industry in terms of housing delivery – estimated at only 50% of projects being delivered on time. As the population and the demand for housing and the pressure on its providers continue to grow offsite construction will play an increasingly significant role in the construction sector.