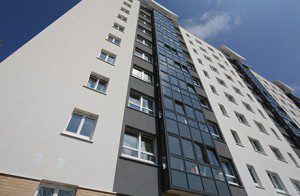 BY offering some of the lowest U-values available to the UK market, a new energy efficient aluminium window system from Senior Architectural Systems is proving to be a cost-effective choice for improving a project's carbon dioxide (CO2) calculations.
The new patent-pending PURe window range is the first in the UK to benefit from an enhanced thermal barrier manufactured from expanded polyurethane foam (PUR). Traditionally used in cladding and insulation products, the innovative use of PUR as a thermal barrier in windows gives the PURe system the potential to achieve U-values as low as 0.71w/m2k when calculated as a commercial CEN standard window.
Providing a significant reduction from the typical U-values of 1.75-1.9w/m2k achieved by Senior's standard SPW600 aluminium window system, the enhanced thermal performance of the PURe range can significantly improve a project's carbon footprint. Despite the dramatic difference in U-values, the PURe system is competitively priced allowing main contractors to reduce the CO2 calculations without increasing costs.
As well as helping to cut the operational carbon emissions by making the building easier and more cost-effective to heat, the unique construction of the PURe system can also contribute to reducing the calculations of embodied carbon which looks at the energy used in the manufacture, transportation, assembly and deconstruction of construction materials. Not only is the PURe system manufactured using existing tools from aluminium, which offers 'cradle to cradle' recycling, but the PUR thermal barrier can be re-used as fillers for other products with no requirement for landfill.
Senior's sales director James Keeling-Heane said, "Although calculations vary on different projects, the positive feedback we are getting from main contractors is that the fantastic u-values that can be achieved through the use of the new PURe system can help reduce CO2 calculations by up to 3%. This is then giving the project team the opportunity to look at making additional savings in the overall build cost by reducing the need for features such as photovoltaic roof panels or expensive under floor insulation. As there is little price difference between the new PURe range and our standard aluminium windows and yet a significant improvement in thermal performance, the benefits that the specification of PURe can bring to a project are huge."