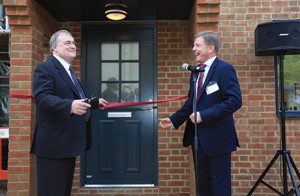 HUGELY energy efficient triple glazed timber windows from NorDan, averaging 0.8 w/m2K U values throughout, feature in the new e4Brick house from Weinerberger constructed on the BRE Innovation Park at Watford.
Enjoying a prestigious official opening by Lord John Prescott, the e4 brick House model focuses on the four pillars of Weinerberger's global e4 concept – energy, economy, environment and emotion. Weinerberger is the leading provider of wall, roof and landscaping innovations.
The Fabric First approach was applied using a clay building envelope to deliver a house with reduced energy needs.
The front entrance door is a Bordorren door from NorDan's Swedish door factory, with a U value of 1.4.
It's a composite door with high security features including rust free steel plates, as well as sound thermal properties. The sliding patio door to the garden, has a U value of 0.81 w/m2k.
NorDan was the first Scandinavian timber window producer to have their timber sliding patio door recognised for its security features, with the Secured by Design badge. There are fixed lights and a balcony door as well as opening windows.