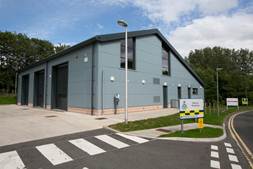 A new £1.9 million ambulance station, which provided jobs and a range of local benefits, has been officially opened in Melrose.
Completed on time and on budget by Hub South East Scotland and its contractor Morrison Construction, the new building is the first Scottish Ambulance Service facility to be delivered through the Hub programme and provides improved facilities for the 34 staff currently based there.
The project provided a range of local community benefits including 55 work placement days, more than 60 pupil/student visits, two new jobs and three apprenticeships.
In a bid to retain local training and employment, Morrison Construction entered into a Joint Venture with local firm Borders Construction to build the facility.
Paul McGirk, Hub South East's chief executive said, "We are delighted to have delivered the first Hub project in Scotland for the Scottish Ambulance Service and I'm proud that, as well as a superb new station, it has resulted in a range of community benefits for the local area, most notably encouraging local employment through a joint venture with Borders Construction."
Eddie Robertson, regional director, Morrison Construction added, "With this contract, Morrison Construction further demonstrated its strengthened integrated construction and services capabilities."
John Moore, construction director, Borders Construction said, "As an SME based in the Scottish Borders, we're proud to be part of these projects. Our involvement in a joint venture with Hub's Tier 1 Contractor, Morrison Construction, is helping sustain local employment and local spend, which benefits the communities we work and live in."