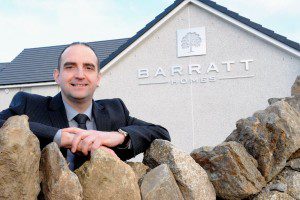 A group of long serving employees at Barratt North Scotland is celebrating after clocking up almost four centuries of service between them this summer.
The eleven tradesmen and construction professionals, whose tenures range from 20 years to 45 years, picked up long service awards at the housebuilder's recent company seminar.
Willie Donald (61), from Turriff, celebrates 45 years with the company this year, after joining Barratt Homes as an apprentice joiner in 1970. Willie has mentored countless apprentices over the years, many of which are still working with the company today.
He said, "Housebuilding offers a range of fulfilling career opportunities. I chose to stay with joinery throughout my time with the company as I really enjoy the challenge and variety it offers, the onsite camaraderie and the satisfaction of a job well done. Earning a trade is a huge benefit – as well as having a job I really enjoy, I've been able to build my own home as well as support friends and family with their projects."
Construction manager and joiner to trade Kevin Urquhart (36), also from Turriff, joined Barratt Homes as an apprentice at 16, and celebrates 20 years with the firm this year. He added, "I was inspired to pursue a career as a joiner by my father, who I spent many weekends working with as a youngster. Having joined at just 16 I've been able to build a career that is both exciting and challenging."