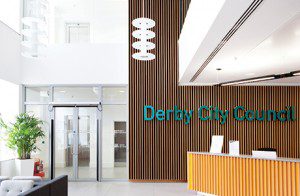 WHEN the most prominent grade II listed building in Derby was renovated, more than 200 reliable and efficient manual and automatic door operators were needed that would ensure ease of use, whilst closing effectively to allow electronic locking for security reasons.
Satisfying this requirement was the challenge faced by GEZE UK at Derby City Council's offices when it was commissioned by architectural ironmonger Eisenware Limited on behalf of the project architect Corstorphine and Wright to supply a range of automatic door operators as well as manual door closers.
For the Council Chamber, which features large 2.4m high wooden doors, and for specific wooden and glass doors in the corridors, GEZE's Slimdrive EMD-F electromechanical swing door operators were specified. While unusual for automatic operators to be fitted to internal glass doors, the slimline design of the EMD-F operator means that at just 7cm high, it is extremely discreet and sits neatly on the doors' patch rails.
In this case, automatic operators were chosen for the internal doors so that swipe cards could be used to restrict access to certain areas of the building and assist with the vigorous demands of the Equality Act.
Andy Howland, sales director of GEZE UK said, "By working in partnership with Eisenware we were able to provide a range of door operators that would assist with accessibility and security, whilst meeting the conflicting demands of aesthetics, performance, energy efficiency and cost."
Throughout the rest of the building, doors were fitted with GEZE's manual range of overhead closers. More than 175 TS 2000 NVs were installed.
These are ideal for public buildings as they feature an over pressurisation valve, which protects the operators from damage.
They also feature fully adjustable closing speed, hydraulic latching action and adjustable closing force making it easier to conform to the requirements of Approved Document M and BS 8300.
A further 21 TS 4000 manual overhead closers were used. The TS 4000 offers fully adjustable power EN 1-6 and is suitable for doors from 750 – 1400mm wide. It is also fitted with an adjustable backcheck as standard.
Finally, 11 fire doors were fitted with the TS 4000 E, which has been designed and approved for use on fire and smoke protection doors. It features an electrohydraulic hold open device, which is released in the event of a fire allowing the door to close safely.