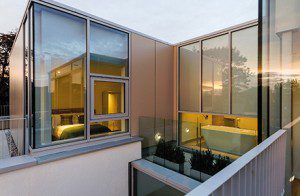 PRODUCTS from aluminium architectural specialists, Metal Technology, were recently specified for the Wemyss Properties' Polwarth Terrace development in Edinburgh.
Situated within a private walled site in one of the capital's most sought after areas, the modern development comprises nine apartments – with either two or three bedrooms – and two penthouse properties – with either three of four bedrooms.
Featuring garden views, private terraces or balconies and shared communal gardens, extensive glazing was required to achieve the desired architectural style and open views over the gardens.
Metal Technology products were used throughout the development due to their contemporary aesthetics, reliable performance and green and energy efficiency values.
For the Polwarth Terrace project, System 17 curtain walling was specified to create the floor-to-ceiling windows opening onto patios and balconies and into the central gardens.
With a diverse range of profiles that provide structural integrity, weather performance and thermal enhancement, System 17 has been extended to provide the designer with a mono or dual pitch roof light system, offering a complementary appearance to that of the vertical façade.
Complementing the System 17 curtain walling, Metal Technology's System 25 Hi+ four pane lift and slide patio doors were integrated into the glazed structure.
Their polyamide thermal break profiles have been specifically designed to minimise heat transfer across the door profiles, with thermal performance further improved through tailor made foam profiles.
Reducing radiation heat loss across the air cavities within the door profiles, the 25 Hi+ offers improved U-frame values over more traditional thermally broken aluminium door systems.
Where sliding patio doors were not specified, Metal Technology System 5-20D thermally Enhance Door System was used.
Additionally, Metal Technology System 4-35 Hi¬+ Thermally Enhanced Casement windows were specified throughout the development, offering a range of profiles to provide structural resilience, weather performance, thermal enhancement and security and aesthetic appeal.
All Metal Technology systems allow designers to create appealing facades while delivering on sustainability, security and weather resistance.
In the Polwarth Terrace development, the products used offer the latest in technical development, low maintenance and infinite recyclability for ultimate value and visual appeal.