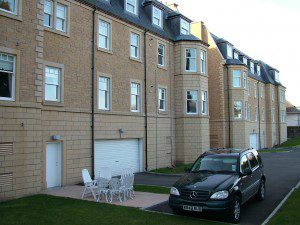 DAVID Stirling heads up Allan Water Developments from an office in the grounds of the Bridge of Allan house he grew up in.
Part of a family business which has been going strong for 35 years, Allanwater Homes is a company currently building houses in several locations across Scotland's central belt.
The firm managed to buck an industry trend by thriving during the recession thanks to carefully selected land banking.
David explained, "Allan Water Developments was formed in 1980 by my father Ian. In the early days the majority of the work was refurbishing old buildings into flats.
"In the mid 1980s he bought an old property for the purpose of refurbishment but it wouldn't split into apartments. The firm was guided to look at it for a nursing home. That changed the company's focus and for the next 20 years we built up a care home business, doing all the developments ourselves.
"I came into the business in 1994 with a degree in engineering.
"I wanted to be more development focused so we started to push back into that in the late 1990s.
"We sold the care home company in 2006."
In 2007 the firm established Allanwater Homes, a distinct company within the Allan Water Developments portfolio.
David added, "We started focusing more on residential homes, and we have developments at the moment in places like Alloa, Dunfermline and Dunblane.
"We continue to do commercial, retail and leisure projects too. Current projects include a retail development in Coatbridge and we're about to build a Travelodge in Stirling.
"We've retained a tight core of staff, though numbers have varied over the years.
"One thing everybody gets with us is stability. The staff are encouraged to speak up. We have developed people and appointed two directors last year who'd been with the company for a long time."
It's impossible to conduct an interview these days without asking about the impact of the recession. To this end, David says Allanwater coped well.
"We were lucky in that we'd always reinvested into building our land bank," he added. "We've always bought well. Our banks were happy to leave us alone and let us get on with it.
"We're looking to expand the housebuilding side of the business. We're purchasing more sites across Scotland and our aim is for steady growth. My plan is for one or two extra sites each year for the next five years, while still doing our commercial developments at the same time."
David says every project throws up challenges, with each having their own "plusses and minuses". "I enjoy the variety," he added. "One project which stands out is our development in Kings Park, Stirling.
"This was very high end and was a real engineering challenge due to difficult ground conditions.
"Challenges come in all different forms. There are always issues you come across with planning processes and disputes which must be resolved.
"The industry, by its nature, is always going to have ups, downs and bumps in the road.
"I'd like to speed up the technical process.
"We always hear complaints about the planning process but this has regulated the amount of new sites coming to the market. If it was too easy to get consent, the market would become flooded.
"With construction consent however, interminable amount of time can pass. Despite calls for red tape reduction, it's certainly got worse over the years."
David believes there is a lack of strong leadership around the major political parties at the moment, something which is having a detrimental impact on industry.
"Politically, all business wants is stability," he said. "We need a period of five + years of strong leadership. There are too many political leaders with no life experience. There are no real leaders out there.
"The independence referendum uncertainty had an impact. People were holding off on making decisions until the outcome was known. I don't know if independence is right or wrong. What I do know is, if it was a yes there would have been a long period of uncertainty while matters were negotiated and markets sorted themselves out and I think that could have been damaging for business. As stated before my personal desire is simply to have a period of stability to allow business the environment to grow."
On a more positive note, Allanwater Homes recently secured a prestigious Premier Guarantee Top Developer Excellence Award for its Kingfisher Gardens development in Dunblane.
"We've always tried to set ourselves apart – like showing humour and humanity in who we are," David continued. "As a smaller company, we can offer clients a bit more for their money, be it a better quality of finish or more space. We offer flexibility. Unlike volume builders, who are constrained by the nature of their work, we'll listen to what people want and tailor houses to meet their needs."