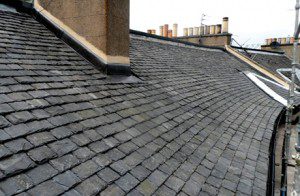 SEVERAL Scottish projects picked up pizes at the tenth UK Roofing Awards, announced at a ceremony in London hosted by BBC's Louise Minchin and NFRC CEO Ray Horwood.
For Double-lap Slating, Bolton Roofing Contractors Ltd were awarded for their work on Eyre Crescent in Edinburgh.
In the Single-lap Tiling and Slating category, Marley Contract Services won for  the Scotia Homes development in Aberdeen.
Completing a hat-trick of awards for Scottish projects, Briggs Amasco were recognised in the Single Ply Roofing sector for their work on the Joseph Black Building in Edinburgh University's Kings Campus.
The full list of winners were:
Double-lap Slating – Bolton Roofing Contractors Ltd, Eyre Crescent, Edinburgh
Double-lap Tiling – Karl Terry Roofing Contractors Ltd, New Place, Banstead
Single-lap Tiling and Slating – Marley Contract Services, Scotia Homes, Aberdeen
Heritage Roofing – Jordan Heritage Roofing Ltd, Penmaen Cottage, Snowdonia National Park
Fully Supported Metal Roofing – Norman & Underwood Ltd, Northumberland Observatory, Cambridge
Roof Sheeting – KGM Roofing, Babraham Campus, Cambridgeshire
Vertical Cladding/ Rainscreen – Lakesmere Limited, National Graphene Institute, Manchester
Reinforced Bitumen Membrane – M&J Group Ltd, Neo-Natal Unit, Hammersmith Hospital
Single Ply Roofing – Briggs Amasco Ltd, Joseph Black Building, Kings Campus, Edinburgh
Liquid Roofing and Waterproofing – Icopal Ltd (with Mitie Tiley Roofing), Terminal 3 – Heathrow Airport
Sustainable Roofs (Shingles & Shakes) – Clarke Roofing Southern Ltd, Wadhurst Church Spire, East Sussex
Sustainable Roofs (Green, Vegetated Roofs) – Organic Roofs, Boathouse, Avon Tyrrell, Hampshire
The Roofing Awards also reward and spotlight the individuals and organisations that go above and beyond the call of duty.
NFRC Health & Safety Champion 2014 went to Pauline Davies of DVC Roofing and Building Limited in Tyne and Wear.
The award for Exceptional Contribution to Training¸ in partnership with CITB, went to Carol Atherton of Avonside Roofing.
The companies that scored highest within their roofing discipline in the NFRC Safety in Roofing Awards for 2014 were, Survey & Construction Ltd in pitched roofing¸
Roof-Link Industrial & Commercial Ltd for flat roofing and BRC Industrial Roofing (Midlands) Ltd for industrial roofing and cladding.
The Lead Sheet Association's Young Lead Worker of the Year award went to Ryan Fisher¸ a self-employed leadworker from Kent.
The Lead Contractors Association presented the Murdoch Award and Murdoch Sponsor's Award for best leadwork, won by John Fulton Plumbers for Govan Waterside in Glasgow. The Sponsor's Award went to D Blake and Co. Ltd for Dumfries House in Scotland.
This was an extra special year for the UK Roofing Awards as it was also the tenth anniversary since it all began in 2006.
To mark the occasion two companies received recognition of their roofing excellence throughout the 10-year period and were presented with an Outstanding Achievement in Roofing Award.
The two companies show the complete diversity of skills in the industry, working at different ends of the roofing spectrum; the awards went to Lakesmere Limited and Karl Terry Roofing Contractors.