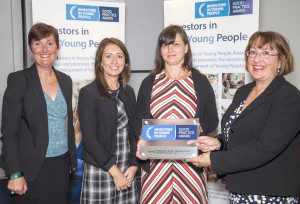 Robertson Group has achieved the prestigious Investors in Young People (IIYP) Silver Accreditation.
IIYP, Scotland's only people management award focusing on employers' recruitment and retention of young people, originated through a key recommendation from the Commission for Developing Scotland's Young Workforce, led by Sir Ian Wood. The accreditation was launched in July 2014, and offered to all businesses across Scotland, the award recognises and supports organisations in the employment of young people. In July 2015 the second generation framework was launched offering additional stretch to organisations who go above the standard.
Having now achieved the silver accreditation, Robertson Group is eligible to use and display the Investors in Young People silver logo and plaque, and enjoy its benefits.
Jillian Nelson, resources manager at Robertson Group, said, "We are extremely proud to be have been recognised for our work with young people across the country. Through our Young People Strategy, Robertson Group has been working hard to help give the next generation hands-on experience and to show them the variety of career opportunities available in the construction industry. We will continue to provide work experience, development and training as well as full employment to young people from a range of backgrounds."
Peter Russian, chief executive of Investors in People Scotland, added, "The 2nd generation framework not only recognises and supports organisations in the employment of young people, but now offers accredited organisations the additional stretch of achieving silver accreditation. The benefits of recruiting and developing young people are countless. These include the creation of a talent pool for the future, new and increased skills in areas such as IT and social media, fresh eyes and mind-sets into business operations along with enthusiasm and unique talents."