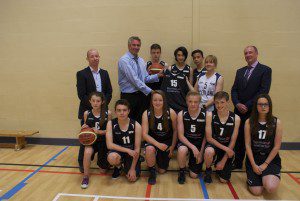 PUPILS playing for Kemnay Academy's basketball teams are donning brand new strips following support from Morrison Construction Building North East.
The local contractor's donation was welcomed by the school at a time when the sport has become of great interest.  This is due in part to Sarah O'Brien, a PE teacher at the Academy, who is currently a member of the National Ladies Basketball squad.
Sarah said,  "We are extremely grateful to Morrison Construction for their very generous sponsorship. It has allowed us to give the pupils within the team a greater sense of identity and group pride as we now have our own Kemnay Academy set."
Keith Machray, Pre-Construction Director, Morrison Construction Building North East, added, "The basketball team is an important focal point for pupils in the school, encouraging them to channel their energy into sport and developing qualities such as leadership, cooperation and personal responsibility. We're delighted and very proud to be supporting them with a brand new set of kit. It's important to us to go beyond delivering quality projects and to honour our pledge to invest in the community too."
Started in April 2013 and completed in February 2015, Morrison Construction recently formally handed over the new teaching accommodation at Kemnay Academy which provides additional teaching and recreational space, along with the refurbishment of the existing building.