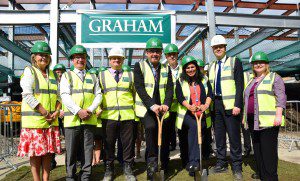 Work to expand and refurbish the operating theatres and intensive care unit (ICU) at Monklands Hospital is underway.
Speaking at an event to mark the start of construction, Neena Mahal, chair of NHS Lanarkshire, said, "I am delighted that construction work is underway. This is an exciting development that will offer excellent services to our patients. Monklands Hospital is the subject of on-going investment through the Lanarkshire NHS Board. This investment shows our commitment to meeting the needs and aspirations of both patients and staff."
Dr Jim Ruddy, consultant in intensive care medicine and anaesthesia, added, "For many years, the ICU and theatres have provided excellence in all aspects of care to our local community in Lanarkshire. Thanks to many people, including GRAHAM Construction and members from each clinical department, and two years of hard work we now have the foundation, facilities and infrastructure to take healthcare for the people of Lanarkshire to another level."
The £19million project will see GRAHAM Construction, the main contractor, build a state-of-the-art 10-bed ICU next to the main building, which will be linked to the hospital's current operating theatres. Once the new unit is constructed it will create greater space in the main building, where a new purpose-built recovery area will also be created. This increased capacity will allow each of the seven operating theatres to be completely refurbished as part of a 12-phase project that will ensure the hospital remains fully operational at all times.
Gary Holmes, GRAHAM Construction's regional director, said, "We've designed the construction programme to ensure that local people still have full access to the centre while building work is being carried out. While that makes the project a bit more challenging than normal, we've got a great deal of experience in similar developments throughout the UK and are looking forward to getting started."
The work is expected to be complete during the spring of 2018.