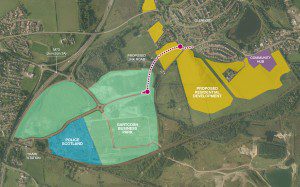 A masterplan outlining a North Lanarkshire property development has been approved by the Council's Planning Committee.
The plan, which will see 1040 new homes developed in the pleasant village of Glenboig, was put to North Lanarkshire Council's Planning and Transportation Committee on 8 July 2015, by Hamilton-based Banks Property.
Part of a Scottish Government approved Community Growth Area, the development has been carefully designed following years of community engagement, including many public events and direct meetings. 119 letters of support were submitted to the Council and the project won the backing of many businesses in the area.
Colin Anderson, managing director of Banks Property Development, said, "We are delighted to have secured approval for a project that has so much potential to improve the lives of existing residents in the local area and create a safe and welcoming environment for families in the heart of Lanarkshire.
"This is a real milestone for a project which has required huge efforts over many years by the team at Banks Property, as well as the many folk in the community that have given their time to support the project and providing feedback to the team.
"Banks Property is committed to sustainable development and this means that as well as creating a wonderful environment for families to live and work in, we intend to maximise the use of local contractors and businesses, to ensure the biggest economic benefit is delivered locally."
The Glenboig Village project has the potential to provide a huge economic boost for North Lanarkshire, representing a £200 million investment, whilst facilitating an estimated 700 jobs – with firms in the local area encouraged to join the supply chain.
Included in the masterplan submission are details of a community hub that will provide for local retail, healthcare and convenience shopping facilities. There will also be an extension to the adjacent Gartcosh Nature Reserve and the long awaited link road to Gartcosh Business Park, the local railway station and the M73.
Innovative 'newt underpasses' designed to encourage the local population of Great Crested Newts to move between habitats helped to secure planning for the link road and will encourage the newt species – one of the largest in the UK – to flourish in the newly expanded nature reserve.
Carefully designed measures to capture and move the newts out of harm's way ahead of construction starting were successfully awarded a licence by Scottish Natural Heritage recently and this will allow Banks Property to commence work on the project whilst ensuring the wellbeing of this important species.