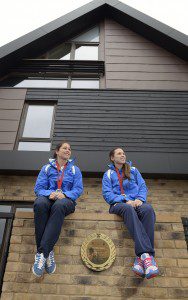 July 23 marks the one-year anniversary of the stunning opening ceremony that kicked off the hugely successful Glasgow 2014 Commonwealth Games – and in just 365 days, The Athletes' Village has been reborn as a thriving East End community.
Since the 6,500 athletes and officials vacated the site in late July 2014, The Village has undergone a remarkable transformation into a new neighbourhood that is challenging the way the East End of Glasgow has traditionally been perceived.
To mark the anniversary, two of the original residents of The Village, sisters Louise and Kimberley Renicks, unveiled a commemorative plaque at the house they called home for the duration of the competition. Louise and Kimberley hit the headlines when they both won Commonwealth gold medals for Judo within an hour of each other on the opening day of competition.
After an intensive programme of retrofitting, the first homes at The Village were ready to welcome their new residents in January this year. All 400 socially-rented homes are now occupied, with 230 of the 300 private homes now either sold or reserved. A community consultation on plans for a further 200 homes, immediately to the south-west of the site, has just been completed.
The Village, which is only three miles from Glasgow city centre, was built by City Legacy – a consortium of Glasgow companies Mactaggart & Mickel, CCG, Cruden and WH Malcolm. The site also has a 120-bed care home, river views and direct access to the Cuningar Loop, a new £5.7m, 15 hectare riverside woodland park provided by Legacy 2014 funding. Work has now begun on a bridge to connect The Village to the Cuningar Loop.
Also close to The Village is the Dalmarnock Legacy Hub – a centre for the local community with a GP surgery, children's nursery, chemist and shop. Glasgow City Council will also build a new primary school and nursery at the Village, due to open in time for the 2017/18 academic year.
Louise Renicks said, "The Athletes' Village holds such a special place in our hearts. Staying here during the Games was an amazing experience and it's a real thrill to come back and see The Village transformed into such a vibrant new community."
Councillor Archie Graham, Depute Leader of Glasgow City Council, said, "The Glasgow 2014 Commonwealth Games were a tremendous success and an unforgettable period in Glasgow's recent history. Now, a year on, the city is continuing to enjoy a great legacy from that time. In terms of a combination of an economic, social and environmental legacy, the Athletes' Village is perhaps one the most visible examples of how Glasgow has benefited from the Games. Once home to thousands of the world's greatest athletes, the council in partnership with City Legacy has delivered this landmark and award winning development in Dalmarnock. It has created the city's newest neighbourhood, with housing, a new care home, community hub and school, not to mention improved transport links and recreational facilities."