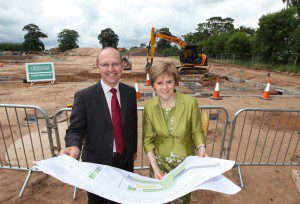 A milestone in the construction of the new £4.4 million Intensive Psychiatric Care Unit (IPCU) at Stratheden Hospital in Cupar was reached when First Minister Nicola Sturgeon joined NHS Fife chief executive Paul Hawkins in a sod-cutting ceremony
Construction of the new IPCU facility, which will consist of an eight-bed unit, is the latest phase of works to modernise large areas of the Stratheden Hospital, which cares for patients with mental illness from across Fife. The new building will include a communal lounge and rooms for rehabilitative and therapeutic activities. Patients will each have their own single en-suite bedrooms, offering more privacy, whilst there will also be access to an outdoor courtyard and private meeting rooms for visits from families or visitors.
Ms Sturgeon said, "Mental health services are an absolute priority of this Government and we have been investing heavily for a number of years in mental health provision. We have also recently announced our £100 million Mental Health Innovation fund, which is targeting additional investment over the next five years. This new funding will make a real difference to some of the most vulnerable people in our society."
Michael Graham, Group executive chairman of GRAHAM Construction, added, "We have shown with the completion of a number of recent NHS projects that GRAHAM Construction has a proven track record of delivering only the very best healthcare facilities throughout the country. "GRAHAM Construction is looking forward to working closely with NHS Fife in the months ahead to deliver the Intensive Psychiatric Care Unit at Stratheden Hospital.
"As well as increasing capacity, the new energy-efficient unit will provide first-class care facilities to help support the region's most vulnerable people for decades to come. We were especially honoured to welcome the First Minister on to the site today to take part in the ceremonial breaking of ground on this important project."