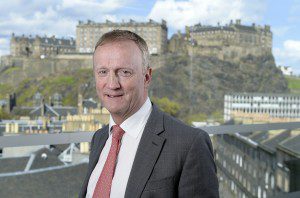 Esh Border Construction, the Scottish-based business of Esh Group, believes the launch of its new office in Livingston will support further growth prospects after Esh Group posted a turnover of £277m for the year ending December 2014.
Shareholders, including many Esh Group employees, attended the company's ASM earlier this week and were given details of its 2014 results.
Group Chief Financial Officer, Andy Radcliffe, announced a turnover of £277 million, up 43 per cent on the previous year and an improved Profit Before Tax (PBT) of £9.5m against £3.2m in 2013. The balance sheet stood at £37m, with a strong cash position at year end of £32m.
Brian Manning, Group Chief Executive of Esh Group, said, "These financial headlines have underpinned a very busy and exciting year for the Group in many aspects of its business, with the opening of a new Scottish base in Livingston representing a major strategic lynchpin. The acquisition of Border Construction, now rebranded Esh Border Construction, contributed some £20m of the increase in turnover and this now gives Esh Group access to markets in both Scotland and Cumbria.
"Investment into the Yorkshire and Humberside market continued with further office space being taken by Esh Construction at Thorpe Park. The North East also remained a strong and vibrant market for us, characterised by wide-ranging construction activities."
Regional Managing Director of Esh Border Construction, Simon Phillips added, "We now employ over 1,200 people across all of our operations with close to 100 staff in Scotland, making up a significant part of the business. To fuel the growth in Scotland we have recently opened an office in Livingston to support our existing Earlston office.
"The new base extends our coverage in Scotland and has enabled us to deliver projects across the Central Belt. The extension of our Added Value work in the community via our award-winning Building My Skills programme – supported by over 60 other businesses – further demonstrates our commitment to the regions in which we work."
 Esh Border Construction was recently named the appointed contractor on Historic Scotland's £8.9milion Engine Shed project in Forthside, Stirling, and has completed work on a stunning refurbished clubhouse for Gullane Golf Club in East Lothian as it prepared to host this year's Scottish Open.
Social housing projects across Scotland have been a major cornerstone of Esh Border Construction's operation, with much-need housing being completed in conjunction with Scottish Borders Housing Association, East Lothian Council, Eildon Housing Association, and Castle Rock Edinvar Housing Association.
During the ASM shareholders were updated on a reorganisation of the share scheme which has recently paid out £6m to some shareholders. The reorganisation was carried out to create further scope for management and employees to be rewarded and incentivised towards further growth.
Brian Manning explained, "This reorganisation has created headroom in order that we can reward more people through the share scheme. The payments made have been directed towards those who have left the company or are nearing retirement so that they may enjoy the fruits of their hard work. None of the founder shareholders or senior team has taken money out."