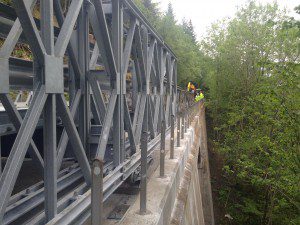 The Spean Bridge to Fort Augustus railway line is benefiting from a new road upgrade scheme devised by Forestry Commission Scotland (FCS).
The scheme forms part of a bigger forestry project that the Commission is implementing that will use part of the railway line as a dedicated road for its timber trucks and so relieve pressure on the region's public roads.
Integral to the railway line are twelve concrete arch bridges. One of these bridges, deemed unfit to carry any loads, has now been pressed into use thanks to an innovative 'over-bridge' solution provided by Mabey Bridge, FCS's contracted bridge supplier. 
Neil Boyle, Head of Sales for Mabey Bridge said, "Forestry Commission Scotland was obviously reluctant to consider dismantling and replacing the bridge due to the historic nature of the route. Our 'over-bridging' solution offered them a much cheaper and quicker option too. We are delighted to have made a significant contribution to the success of this project."
The Spean Bridge to Fort Augustus railway line has had a chequered history. The Invergarry & Fort Augustus Railway company built a 24 mile line along the Great Glen from Spean Bridge to Fort Augustus, 30 miles (48 km) from Inverness. The line was completed in 1901, but as the company had no money left to buy rolling stock, offered it to the North British company, which was running services through Spean Bridge station. A rail service started in 1903 and during the summer, some services ran beyond Fort Augustus to a pier on Loch Ness to connect with a steamer, but this was withdrawn in 1906. In 1907 the Highland withdrew and the North British took over. The line closed completely in 1947.
 Today, some of the line has been built over by roads and holiday parks, whilst some of it, which runs along Loch Oich, has been incorporated into the Great Glen Way. A further section is likely to become part of National Cycle Route 78.