RUUKKI has supplied its external cladding and roofing products on a number of large hospital projects in recent years.
These include Queen Alexander Hospital in Portsmouth, where 22,000m2 of Nordicon, Ruukki's prefabricated wall elements, was installed.
Great Ormond Street Hospital, London benefited from approximately 4,000m2 of Nordicon. And Salford Royal near Manchester featured the Ruukki Liberta Rainscreen Cladding, displaying an attractive use of colour.
The most recent project was the New South Glasgow Hospital, which has been constructed incorporating the use of Ruukki Composite Panels.
BIGGEST IN SCOTLAND
The New South Glasgow Hospital project started on site two years ago and was the biggest single NHS hospital building project ever undertaken in Scotland for the NHS Greater Glasgow and Clyde.
The building is set upon the existing Southern General Hospital site and the 14-floor (170,000 m2) adult and children's hospitals will be expected to treat 110,000 A&E patients and 750,000 patient episodes every year.
The hospital will have one of the biggest emergency departments in Scotland, provide beds in single-room accommodation and 30 state-of-the-art operating theatres. The main contractor is Brookfield Multiplex and the external cladding has been installed by Prater Ltd.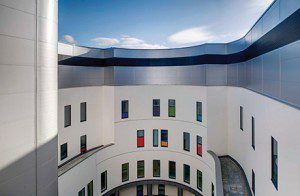 RAPID AIRTIGHTNESS
It was important that the external building envelope was constructed rapidly, be made weather tight and able to perform highly efficiently. The initial planning and design stages were crucial to achieving this.
When designing an effective building envelope, there are major factors to consider which include: building shape/orientation/volume, climate, thermal efficiency, fenestration (doors, windows, skylight and openings), building material properties as well as air and moisture control.
The design of New South Glasgow Hospital was undertaken by Nightingale Associates. The London-based architects specified Ruukki's Composite Panels which suited this project well due to their technical properties and the experience and knowledge that Ruukki hold.
Gareth Ellison, UK Country Manager at Ruukki UK, said, "A key advantage of Ruukki's composite panels is that they can be installed rapidly; providing a thermally efficient and air tight building envelope. These performance criteria were particularly important for the New South Glasgow Hospital project and are becoming increasingly important across all sectors."
PANEL SOLUTIONS 
Ruukki supplied 11,000m2 of PIR sandwich panels for the external cladding system around the children's hospital and plant room areas. All panels were installed by Prater Ltd.
Ruukki sandwich panels are cost-efficient prefabricated elements that consist of an inner insulation core between two colour-coated steel sheet layers.
The insulating core can be mineral wool, polyisocyanurate (PIR) or glasswool.
A wide range of colours and surface types are available. Panels are LPCB approved and are CE certified.
Ruukki's SP2D PIR UK Panel is tested to BS8414-2 and has BR135 certification for use in buildings with storey heights above 18m.
Ruukki Energy Panel system is a comprehensive external wall system that reduces a building's energy costs as well as improves its energy class through excellent air tightness.