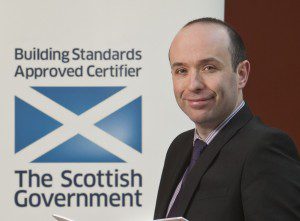 The Approved Certifier of Construction scheme, which aims both to raise construction standards and simplifies the approval of many construction projects, is in danger of failing if more effort is not put into its use and promotion.
This was the message a SELECT delegation gave Scottish Government Minister for Local Government and Community Empowerment, Marco Biagi, at a recent meeting at SELECT's Midlothian Headquarters.
The Minister, who is responsible for Building Standards in Scotland, said that whilst the government was not in a position to make use of the scheme mandatory, he would do as much as possible to ensure its growth.
He made reference also to the planned introduction of e-Building standards and the review of warrant fees both of which were looking at promoting the increased use of members of the Approved Certifier of Construction schemes.
SELECT, Scotland's trade association for the electro-technical industry, was represented by its Immediate Past President, John Noble and Keith Groom, Past Chairman of the Edinburgh & South East Scotland Branch.
John and Keith were both winners of the 2014 SELECT Award for Best Promotion of the Certification scheme.
Newell McGuiness, managing director of SELECT, said, "The meeting was an excellent opportunity for us to express our concerns by calling for action on the issue and we are satisfied that our message was heard clearly."
SELECT member companies account for 90% of all electrical installation work carried out in Scotland, have a collective turnover of £1 billion and provide skilled employment for 15,000 people.