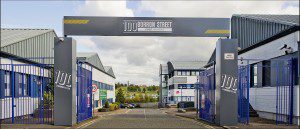 Zombie chases, children's television shows and giant art-installations of human organs are not things commonly associated with business parks but 100 Borron Street doesn't follow the crowd.
The Glasgow business park is taking a creative approach to using the space in some of its vacant units, promoting availability to many of the more unconventional sub-sectors within the creative industries.
Last week, the park was used as a key feature in the live-action zombie chase game, 2.8 Hours later, as hordes of the 'undead' chased participants around the park while they try and make it across the city by avoiding actors trying to 'eat their brains'.
The site has also become a popular filming location, with a TV production company shooting a popular CBBC program over the period of 18 weeks, while the business park was also used by a well-known local artist who was making an installation involving a giant, beating heart.
100 Borron Street recently received over £300,000 worth of funding towards building a skate-park in one of its vacant units and is currently finalising preparations to take this project forward. Once open it will serve extreme sports fans across the city while offering a unique choice of lunchtime recreation for people working in the business park.
100 Borron Street's development surveyor, Keith Mackie, said, "The vision for 100 Borron Street is a place for business, arts and leisure. While many parks focus solely on securing long-term lets from businesses we have realised that our space holds some unique qualities which makes it attractive to the creative industries. It has been fantastic to open the park up for such a range a uses, really demonstrating the many ways the different units be utilised. Working with film companies is something we are particularly adept at, being in a position to offer different sections of the park for individual requirements such as set building, prop storage and a production office.
"The pipeline of interest from film crews remains strong and we will continue to offer the park as the ideal destination for productions while we finalise a number of commercial property deals which are currently in motion. Because of the industrial nature of some of our units, we also regularly get inquiries from artists who need some temporary space to work on a project and we are usually able to accommodate. Ultimately, the last nine months or so has been slightly unsteady for business parks across Scotland, with the independence referendum followed by the General Election stalling buyers, choosing to wait until the dust settles on the various votes which have been held.
 "Operating against this backdrop, while also seeing the value of our assets, making the park available on a temporary basis to the creative industries has been a lucrative strategy."