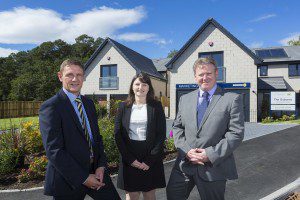 Bancon Group has strengthened its management team with the appointment of Sarah Donn as finance director, Jamie Tosh as construction director and Mark Toland as technical director of its homes business.
The Aberdeenshire housebuilder and construction group recently reported strong results and ambitious plans for growth which include doubling the size of the homes division in the next 12 months. 
Sarah Donn (28) is a qualified chartered accountant and joins Bancon from Stewart Milne Group where she was divisional accountant. A highly experienced construction professional, Jamie Tosh has been running his own building design company for the last four years. Prior to that he held a variety of director and project management roles including FMS Construction and James Paul Associates. Mark Toland becomes technical director, having been promoted from homes technical manager.
John Irvine, chief executive of Bancon Group, said, "Strengthening the senior management team is part of our plan to transform and dramatically grow the Bancon business. These newly created positions, complete the board of the homes business as part of our aspiration to capture a larger share of the North-east housing market. Sarah and Jamie are excellent additions to the team. Sarah's appointment probably makes her one of the youngest finance directors in the country but her sound technical skills and highly relevant sector experience which, when combined with her dynamic approach and desire to succeed, mean she is ideal for this new role.
"Meanwhile, Jamie's experience and proven track record of delivering results will be invaluable in driving our new homes developments forward and Mark's promotion is testament to his excellent project management skills and technical ingenuity which he has demonstrated in abundance since joining us this year."