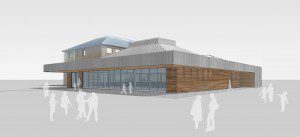 Work has started to double the capacity of the Junior School dining hall at the prestigious George Watson's College in Edinburgh.
The aim of the renovation is to improve dining experience for pupils as well as introduce more modern catering facilities. This is the latest development in a programme of work to upgrade pupil facilities including opening a state of the art sports centre in 2012. 
Delivering the project is CCG (Scotland) Ltd, who have worked on a number of education projects recently including building a new teaching block at Dollar Academy and the construction of the new Libberton Primary School. 

Calum Murray, Director of CCG, explained, "We are proud to be working in partnership with George Watson's College and support their development programme to upgrade and improve their dining facilities. George Watson's College has an attractive and historic campus and this project is sympathetically retaining the surrounding campus."

Melvyn Roffe, Principal of George Watson's College, added, "We are extremely happy with the progress on our Junior School dining hall extension. Our younger pupils are looking forward to enjoying the benefits of this new facility at lunch and in the after school club early next session."

Work is scheduled for completion in time for the Autumn 2015 term.