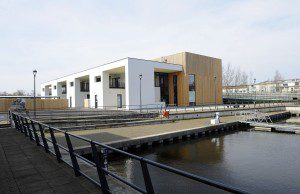 THE official hand over of Lairdsland Primary School has taken place to celebrate the completion of the sustainably-built school.
Morgan Sindall Professional Services (MSPS) provided mechanical and electrical (M&E) and BREEAM services to the project, working with architects Walters & Cohen. Key to the successful delivery of the 266-pupil primary school was passive energy efficient solutions, value for money and its exemplar design, a design that leads its field, setting an industry standard that can be used as a blue-print and adapted in scale to respond to different primary school briefs. The school is also expected to achieve an 'Excellent' BREEAM rating.
As the project's main contractors, Morgan Sindall PLC invited feedback from clients East Dunbartonshire Council and Hub West Scotland as part of an ongoing commitment to accommodating clients' requirements regarding timescales, design coordination, budgets and key deliverables. 'Perfect Delivery' was achieved by completing the design efficiently and delivering the project safely, on time, snag free, and with a customer that would recommend the service and rate themselves as 'delighted'. 
Robbie McKillop, public sector director at MSPS, said, "The school's aesthetics are outstanding, all design and construction goals were achieved, and we are extremely pleased to have delivered a school with a design that supports the ideals of modern primary school learning, while incorporating sustainability." 
The two-storey school has 11 flexibly-designed classrooms purpose built to support curriculum for excellence with classrooms having a quiet formal learning area, a more informal project space, as well as specialist and outdoor learning areas. The location of the large school hall means it can be used after school hours without allowing access to the remainder of the school, key to the wider community engagement.