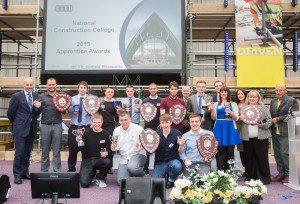 CONSTRUCTION apprentice Steven Reid has scooped the coveted 'Apprentice of the Year' award at the National Construction College (NCC) Scotland Apprenticeship Awards ceremony.
Steven, from Munlochy, Inverness is a Plant Maintenance Apprentice and also won the Third year Plant Maintenance Award.  
The apprenticeship awards are run by the NCC, the training branch of the Construction Industry Training Board (CITB), providing a positive platform for each of the NCC apprentices nominated and their employers and enabling NCC to showcase their graduates.
The NCC will support over 30,000 individuals across the UK including over 1500 apprentices in Scotland this year.
The event runs annually, bringing together employers and trainees from across Scotland to celebrate the achievements and hard work of apprentices, officially recognising their effort and commitment to their course and to the industry. 
 Steven Reid said, "I'm absolutely delighted to have won this award. I've worked really hard during my apprenticeship and I'm so pleased it's been recognised. The NCC and my employer Daviot Farms Ltd have been brilliant from start to finish. I couldn't have achieved this without their support." 
Phil Ford, Strategic Partnerships Director (Scotland) from CITB added, "The NCC Scotland Awards are a fantastic opportunity to recognise the talent of the future and to showcase construction as an excellent career path for young people. The calibre of apprentices this year was excellent. All of the nominees impressed the judges and the apprentices should be extremely proud of their achievement."
NCC Scotland Awards 2015 Winners:
Apprentice of the Year 2015
Winner – Steven Reid (Daviot Farms Ltd)
1st Year Construction Apprenticeship Award
Winner – Alan Munro (Lafarge Tarmac)
2nd Year Construction Apprenticeship Award
Winner – Michael Goodlad – (Tulloch Developments Ltd)
1st Year Built Up Felt Roofing Apprenticeship Award
Winner – Scot Weir (Starfish 9 Ltd)
2nd Year Built Up Felt Roofing Apprenticeship Award
Winner – Matthew Robinson (Templar Roofing Ltd)
1st Year Ceiling Fixing Apprenticeship Award
Winner – Dean Morgan (William Gray Construction Ltd)
2nd Year Ceiling Fixing Apprenticeship Award
Winner – Lewis Todd (Roskel Contracts Ltd)
1st Year Dry Lining / Partitions Apprenticeship Award
Winner – Thomas Quinn (Quinn Interiors)
1st Year Plant Maintenance Apprenticeship Award
Winner – Campbell Howie (Muirhead Plant Ltd)
2nd Year Plant Maintenance Apprenticeship Award
Winner – Alistair Thompson (Caskie Ltd)
3rd Year Plant Maintenance Apprenticeship Award
Winner – Steven Reid (Daviot Farms Ltd)
Plant Operators Apprenticeship Award
Winner – Dylan Summers (Martin Boyle Contracting Ltd)
1st Year Roof Sheeting and Cladding Apprenticeship Award
Winner – Barry Kelly (Roof Linings & Cladding Ltd) 
2nd Year Roof Sheeting and Cladding Apprenticeship Award
Winner – Lewis Rundell (Roof Linings & Cladding Ltd)
1st Year Access Apprenticeship Award
Winner – Scott Hamilton (Check-It Scaffold Services Ltd)
 2nd Year Access Apprenticeship Award
Winner – Jake Kennedy (Intrabiz Scaffolding Ltd)