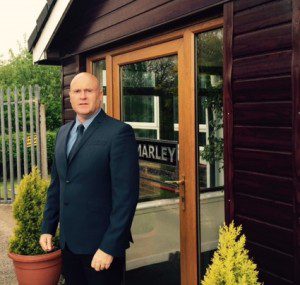 Billy Baird has been named the next managing director of Marley Contract Services.
Having spent 15 years as projects director for the roofing and cladding specialists, Billy has been working closely with his predecessor, Archie McPike, who will be retiring from the role in June.
A joiner by trade, Billy joined Marley Contract Services in 1989, when he started as assistant contracts manager. From there, he worked his way up through the ranks to senior contract manager before taking up his position of contracts director.
In his current role for the principal contracts division of the business, Billy has been responsible for overseeing a range of commercial projects, ensuring a consistent approach to quality and ensuring best practice and skills development across all areas.
Billy said, "I'm delighted to take up this new venture and continue to drive growth for the business. The high quality workmanship our customers have come to expect from our brand will remain at the heart of our strategy. 
"I'm also focused on continuing to develop our skills base with a keen eye on the progress of our apprentice and trainee programmes."
Current managing director, Archie McPike, who has been with Marley Contract Services for 28 years added, "I have thoroughly enjoyed my time at Marley Contract Services and am confident that Billy's outstanding commitment to best practice and skills development will continue to steer the business in the right direction. I wish him the very best of luck in his new role."