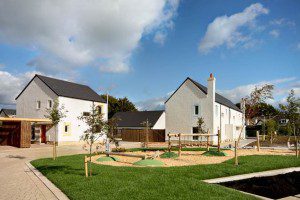 Two west of Scotland-based projects have been awarded the prestigious 2015 Saltire Innovation in Housing award.
Recognising housing design excellence throughout Scotland, the awards from the Saltire Society represent a long-standing commitment to celebrate innovation and excellence in Scottish housebuilding and place-making.
The Polnoon housing development in Eaglesham and Refurbished House at BRE Innovation Park, Motherwell each received the title and cash prize of £1,500 at a ceremony in Edinburgh when the judges found themselves unable to pick one over the other.
Comprising 121 homes, the Polnoon development encapsulates a new design approach to build a better quality living environment and conservation area for tomorrow, that suits contemporary family living. Refurbished House at the BRE Innovation Park is a live research and development laboratory project which will provide information for the development of a retrofit strategy to tackle the existing building stock in Scotland.
Recognised under the Multiple Housing Development category, phase 1A of the Laurieston Transformational Regeneration Area was also announced as an award winner.  The first in a comprehensive redevelopment of the Laurieston area, the 201 unit mixed housing development is both environmentally and socially sustainable and helps to create a powerful sense of place in anticipation of the planned future development phases.
As well as the five Housing Design award categories, the Saltire Society also announced the winner of the sought-after Saltire Medal. Selected out of the winners of all categories apart from Innovation in Housing, this year's award went to a renovation project known as the Old Farmhouse in Invergarry, Invernesshire, a project that was specifically designed so that it brought together and enhanced various ad-hoc modifications that had been required to the original building which dates back to 1868.
Past winners of this coveted accolade and separate cash prize of £1,500 include North Gardner Street in Glasgow, the transformation of a semi derelict workshop and office building into a calm, private city house, designed by Cameron Webster Architects and the Artist Residence, in Perth by Fergus Purdie Architects.
Minister for Housing and Welfare Margaret Burgess MSP said, "The Saltire Society's Housing Design Awards act as a spur for excellence, not only by raising ambitions for good new house design and the creation of successful, sustainable places but also by promoting a sensitive approach to adapting and enhancing our built heritage."
Jim Tough, Executive Director of the Saltire Society added, "As ever I have been very impressed by the design, innovation and attention to detail that is present in all of this year's shortlisted entries and particularly pleased at the exceptional examples of multiple housing developments, which resonate with the very reason we have these awards. The feedback from the judges is that the decisions on the overall winners were particularly hard to make, which is testament to the calibre of architectural talent in Scotland today. "