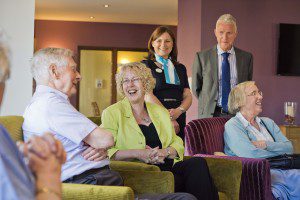 HOUSING Minister Margaret Burgess recently toured McCarthy and Stone's first Assisted Living development in Edinburgh – Lyle Court – which is located on part of site of the former Barnton Hotel.
During the tour, which was hosted by Steve Wiseman, Regional Managing Director for McCarthy and Stone in Scotland, Ms Burgess had the opportunity to meet residents and staff from the care team.
Lyle Court offers Edinburgh residents over the age of 70 the opportunity to purchase a one or two bedroom apartment where they can maintain their independence with the reassurance of support as they enter their later years.
The development boasts a table service restaurant which offers a daily three-course lunch, a guest suite for when visitors want to stay over and a homeowners' lounge for socialising with other residents.
Following the tour, the team from McCarthy and Stone had the opportunity to discuss various aspects of housing policy with Ms Burgess including the Joint Housing Delivery Plan, delivery of housing for older people, and provide the Minister with an update on how they are changing some of the elements of their retirement developments to suit the changing needs of consumers.
Steve Wiseman said, "(The) visit by Housing and Welfare Minister Margaret Burgess has given us an excellent opportunity to brief her on a wide range of issues that impact on our ability to deliver a range of housing options for older people. We have welcomed draft of the Joint Housing Development Plan (JHDP), and we are keen to understand how we can contribute to the objectives of the JHDP to ensure the housing needs of our increasingly elderly population are taken into account."
Margaret Burgess added, "The Scottish Government is committed to increasing the supply of new homes and to enabling the elderly to live independently in their own homes wherever possible. We know that living in the right home with suitable physical features is clearly important, and that the right support can be the key to enabling people to live safely and independently at home."