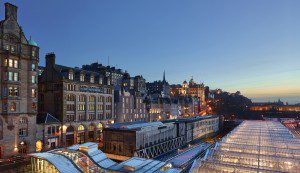 The EDI Group Ltd has announced a partnership with the Carlton Hotel Collection to develop a design hotel in the heart of Edinburgh's historic Old Town.
This is the first venture in Edinburgh for the European hotel operator. The 98-room, four-star boutique hotel at 6-8 Market Street, will be just a short walk from the Royal Mile, Waverley Station, Princes Street Gardens and the New Town.  
The site is within the UNESCO World Heritage Site and has been vacant for over 50 years. It includes the only remaining gap site on the northern boundary of the Old Town between Edinburgh Castle and North Bridge.
Lynn Smith, Head of Development, EDI Group, said, "We are thrilled to announce the partnership with the Carlton Hotel Collection on what will be a very important development for the city. Not only will it see the final completion of Market St, it will also create employment opportunities both throughout construction and after opening."
Alfred Bree, Managing Director, Carlton Hotel Collection, added, "We are proud to open the luxurious lifestyle hotel at this magnificent location in Edinburgh. The group's long term strategy is to grow our portfolio of unique hotels in key cities, and Edinburgh has been on our wish list for a long time. Together with our international awarded interior designers we will create a new hotspot for the modern conscious traveller, inspired by the city's cultural and historical elements."
Keith McBain, Director, JLL Hotels & Hospitality Group – who advised The EDI Group – said, "This is a landmark opportunity to create a destination hotel set within Edinburgh's world famous skyline. The eight-floor hotel, designed by the Edinburgh based jmarchitects, will showcase the highest standard of accommodation in a building that has been designed to fit in with the outstanding heritage of its surroundings."