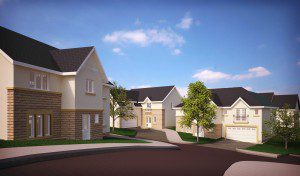 CALA Homes is to deliver much-needed new houses in Currie – after its site became the first green belt development to be approved by the Council under Edinburgh's new Local Development Plan.
The housebuilder welcomed the decision by planners to approve proposals for 17 terraced and detached family homes at Riccarton Mains Road.
It means the 1.15 hectare site could be under construction by August and completed as early as the end of 2016.
Andrew Statham, Land Buyer with CALA Homes (East), said, "We welcome this positive statement of intent from the city council. It has a clear strategy for delivering family homes where they are most needed and most in demand. Several years of preparation work and public consultation has been involved in getting to this point. We are very pleased that effort is now coming to fruition and that we were able to demonstrate that our designs would be both suitable and sustainable for this location."
The development will include two-storey detached, semi-detached and terraced properties. The largest will be a five-bedroom home, while a further six will have four bedrooms. Ten of the homes will offer three bedroom accommodation.
The approval underlines Edinburgh Council's Local Development Plan to address demand for new housing. Edinburgh's LDP was submitted to the Scottish Government for approval last month.