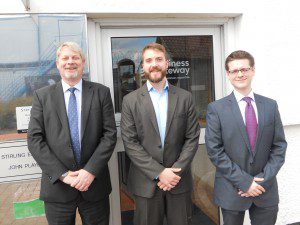 Scottish Timber Trade Association (STTA) members recently met in Stirling for a presentation on the EU Timber Regulation by Enforcement Officers from the National Measurement & Regulation Office, the Government agency responsible for enforcement of the Regulation.
The EUTR, which aims to ensure illegally harvested timber is not traded in the EU, was introduced in March 2013, but as trade experience increases, there are questions about the practicalities of demonstrating compliance.
EUTR introduced the practice of environmental due diligence and risk assessment of sources of supply. STTA Members had previously raised questions about the extent of the burden imposed on the industry by the Regulation, the status of certified products in the eyes of EUTR, the implementation of EUTR across the EU and the apparent lack of a level playing field, FLEGT/VPA arrangements, species identification technology and environmental due diligence systems.
Nicolas Pillet and Neil Davis from the NMRO provided a useful insight into the EUTR, including the recent Chinese plywood enforcement project. Nicolas emphasised the importance of robust evidence gathering and demonstrating how the outcome of risk assessments are arrived at, risk mitigation and the use of Article 6 of the Regulation as a checklist.
David Sulman, Secretary of STTA said, "This well attended meeting was interesting and informative and whilst the NMRO may not have all of the answers to the trade's questions on EUTR, some useful pointers were given. Whilst there are uncertainties apparent, some of them may only be resolved by the light of experience. It is essential that the regulators take a reasonable and practical approach to enforcement, especially in view of the complexities of some of the supply chains in our sector.
"We welcome the NMRO's desire to work in collaboration with the trade and look forward to maintaining contact with them. The question of implementation of EUTR by other EU Member States is an important one and it is not acceptable for UK businesses to be placed at a commercial disadvantage because of the absence of a level playing field in Europe."