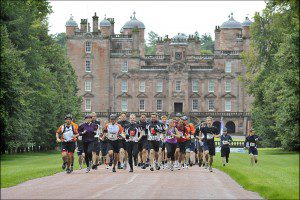 BUCCLEUCH PROPERTY has announced the 2015 Buccleuch Property Challenge. Taking place on September 4th at Drumlanrig Castle, the ancestral home of the Duke of Buccleuch, this will the ninth year of the event.
The annual challenge welcomes entrants from across the property and business sectors and has grown successfully over its nine year lifespan. Last year's winners were Northumberland Estates for the singles event and CKD Gailbraith in the mixed challenge. Although the event's main focus is on teamwork there is also a charitable element, with firs time entrants able to choose their own charity to support. Buccleuch Property has selected Terafund as this year's national charity.
Taking place over six hours, the course is designed for all participants from first timers to experienced adventure racers. With an emphasis on teamwork, the event includes a number of different stages including mountain biking, running and orienteering.
David Peck, Managing Director of Buccleuch Property said, 'The Buccleuch Property Challenge has evolved to become a well-known date in the property diary thanks to its challenging course and guaranteed banter. We are very proud of how it has grown over the years and are looking forward to another great adventure-filled event this September."