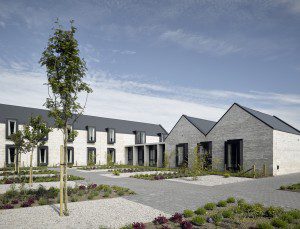 The new Ronald McDonald House, designed by Keppie, has opened its doors at the South Glasgow Hospitals Campus.
The £3.4m facility, run by independent charity Ronald McDonald House Glasgow, provides free amenities and accommodation for families of sick children from all over Scotland who are being treated in the adjacent Royal Hospital for Sick Children.
Located on a prominent corner site within the hospital campus, the light, airy and welcoming building offers families an opportunity to retreat from the overwhelming aspects of the hospital environment. The industrial façade that fronts the busy Govan Road, and references the area's strong shipbuilding heritage, shields the building from traffic noise and the institutional surroundings of the South Glasgow Hospitals Campus.
The building comprises three traditional brick forms with slate pitched roofs, connected by glazed openings that add distinction to the main entrance. A calm, domestic feel has been achieved by carefully considered massing and use of rustic white brick. The interior spaces use high-quality materials, finishes and fixtures throughout, and ceilings follow the external roofline to provide added drama to communal spaces such as the lounge, kitchen and children's play area.
Nestled behind the building are a series of semi-enclosed courtyards with an oasis of trees, shrubs and plants that provide relaxing outdoor spaces for residents.
David Ross, design director at Keppie, said, "It has been wonderful for us to work on such a worthwhile facility that is crucially important to the families who use it. Our aim was to create a building that addressed the sensitivities of its users who are reaching out for comfort, reassurance and respite at a very difficult time in their lives. With this design we feel we have really achieved the human scale and the nurturing "home from home" environment that we intended."