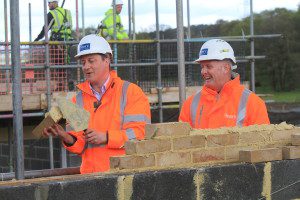 STORY Homes is investing £1m in its employee development and training over the next three years.
The home builder has been expanding rapidly over the past three years and it is investing heavily in making sure it has the right skilled workforce to deliver its ambitious growth plans.
Steve Errington, Chief Executive of Story Homes explained, "We have made this commitment to investing in our staff and future staff as a part of our growth strategy. Story Homes knows that this investment in its people is essential for a vibrant, progressive company which is why we have put in place not only schemes to train incomers to the business, such as a graduate programme and apprenticeships, but also a comprehensive staff development scheme.
"We value our employees and we want to support them in their existing roles and in their future career aspirations through innovative internal development and training."
Shelley Hayward has been appointed as Learning and Development Manager at Story Homes to lead this investment. She joins from sister company Story Contracting, where she performed the same role. Previously she worked as a Talent Manager for 3663 First for Foodservice.
Shelley said, "Story Homes has already invested in apprenticeships, staff training and a graduate programme is beginning in September, but we're going to build on that work further. My role working within the business is to put in frameworks for progression to help people to develop their careers. For example, if you're an administrator how do you progress? What are the roles and development interventions you can go on and read through?
"We're looking at innovative ways of helping our staff to develop. We're thinking about how we can use technology, social media and collaboration in achieving these aims. Also there's a wealth of experience in the company and we want to look at how we can get that out to other employees. We recognise there are people in roles who are perfectly happy where they are, and that's great, but we can help them to have a deeper understanding of the business.
"An investment in our staff is an investment in the future of the business."