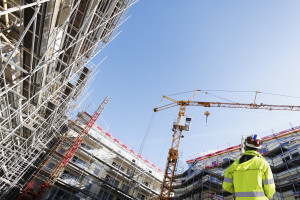 A decoupling of output and jobs in the Scottish construction sector could threaten the long-term sustainability of the industry's recovery, the Scottish Building Federation has warned.
New figures released as part of the Annual Population Survey show there were approximately 176,500 people employed in the Scottish construction sector last year, around 58,500 fewer than were employed in 2008 when industry employment hit a peak of 235,000.
Separate figures published recently by the Office of National Statistics show Scottish industry output hit an all-time high of £11.9 billion in 2014. However, at approximately 176,500, the corresponding industry employment figure remains 16% below where it was in 2004, when the Scottish construction sector employed around 209,000 people.
Based on these figures, the number of Scottish construction jobs supported per £1 million of industry output has fallen from 22 in 2004 to 15 in 2014.
The value of infrastructure output and other public sector new work hit a new combined peak of £3.8 billion in 2014, a major contributing factor to the record output recorded by the Scottish industry last year.
However, the value of housing output in Scotland remains 37% below where it was in 2005, when it hit an all-time high of more than £3 billion. Repair and maintenance showed a fifth consecutive year of decline, down 15% on where it was in 2010.
The Scottish Building Federation is concerned that the industry's recovery is currently skewed towards sectors of the industry that typically generate relatively high levels of output by value but support relatively fewer jobs. Responding to the new figures, SBF has re-emphasised the importance of achieving a balanced recovery across all sectors of the industry. It also argues that public spending decisions should be channelled towards outcomes that will stimulate direct employment within the industry.
Scottish Building Federation Managing Director Vaughan Hart said, "These new employment figures come hard on the heels of recent output figures showing 2014 was a record-breaking year for Scottish construction. As the value of industry output has spiked, it is striking to observe that industry employment remains stuck at just over 175,000.
 "As a consequence, every £1 million of industry output generated now supports 15 Scottish construction jobs, whereas the same output value would have supported 22 jobs back in 2004. We must remain cautious about the record-breaking levels of industry output we are currently witnessing and what these tell us about the underlying health of the industry. On current levels of capacity, these output figures are simply unsustainable.
"A healthy recovery needs to show growth across all sectors of the industry – and levels of employment also need to keep pace. The public sector can play an important role by prioritising procurement and project funding decisions that maximise direct employment within the industry. Without suitably balanced growth across all sectors, this decoupling of jobs and output will continue, placing the industry's long-term recovery at real risk."