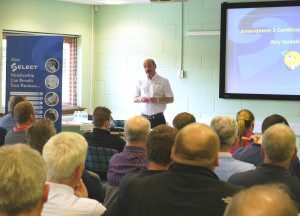 The electrical industry in Scotland has joined enthusiastically in the latest series of Toolbox Talks, the practical and popular events for disseminating the latest technological information to the widest possible number of trade professionals.
The wide-ranging nationwide tour, which takes in eight venues, got under way on May 6 at the Walled Garden, Edinburgh – HQ of tour organisers SELECT, the campaigning trade body for Scotland's electrical sector.
The tour has already visited the Borders at Newton St Boswells and will now head for Dumfries on May 13, Kilmarnock on May 14, Inverness on May 20, Aberdeen on May 21, Dundee on May 27 and Glasgow on May 28.
Hundreds of SELECT members and other interested parties are attending the Toolbox Talks – all delivered by SELECT's expert technical team, and with contributions from experts in other relevant fields.
Dave Forrester, SELECT's Head of Technical Services, said, "There has been terrific interest in the Toolbox Talks events this year on the back of the success of the previous two years. Attendance numbers just keep increasing."
Topics covered at the Toolbox Talks include: examples of items requiring inspection during initial verification; and the latest updates on Amendment 3, focusing on the new regulation 421.1.201 for domestic (household) consumer units.
The talks also include this year an important discussion with experts at major legal firm MacRoberts on measures for avoiding bad debt and maintaining customer relationships while still ensuring payment on time.
Bob Cairney, Technical Services Manager at SELECT, said, "The events are structured to provide detailed technical information and guidance which we hope our members will find useful."
Members also had the opportunity to meet the various sponsors for the Toolbox Talks – including Aico, SJIB, Hager, M2, Megger, SECTT, Thin Red Line Products, Wiska and Wylex.
There is still time to obtain tickets, which are free for SELECT members and £20 for non-members. The first five members to book at each venue will receive a free one-year subscription to SELECTcerts, SELECT's electronic certificates and reports package.
The organisation's managing director, Newell McGuiness, said the series illustrated SELECT's long-term commitment to the highest possible standards in the industry and the need to foster continuing professional development for skilled tradesmen and technicians.
 SELECT Member companies account for 90% of all electrical installation work carried out in Scotland, have a collective turnover of £1 billion and provide employment for 15,000.