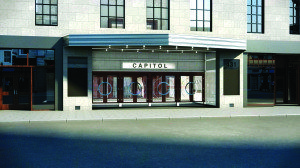 Aberdeen-based North Group, a specialist provider of both interior and exterior construction and refurbishment services, has secured a new contract worth in excess of £900,000.
The work will see North Group provide a range of fit out and refurbishment services on behalf of Knight Property Group at its landmark £35million development of The Capitol. The contract has been secured via the project's principal contractor, Andrew Cowie Construction Ltd.
Involving its contracts and joinery divisions, the agreement is for North to carry out the interior joinery work package and refurbishment of the development's new front of house and tower. 
A range of other work, including the manufacture and installation of veneered panelling and hardwood finishes to the front of house area, the erection of various partitions to form core office areas, the installation of skirting and window cills along with various finishes to the development's five storey car park and seven storey office block, will also be completed by the company's multi-disciplinary team.
The Capitol development, a Knight Property Group and M&G Real Estate joint venture, is scheduled for completion later this year and will see the 1930s art deco cinema redeveloped into grade A office accommodation. It will consist of prime office space for up to 700 personnel, covering approximately 75,000sq ft and is currently the largest city centre new-build office space under construction.
Karl Lewis, estimating director of North Group, said, "To be involved with a development of this calibre is fantastic news for all associated with North and we're delighted to be working with Knight Property Group on what is set to be a fantastic business space in the heart of the city. The interior aesthetic of newly constructed office space has a really important role to play in both the functionality of the facility and its appeal to new and prospective tenants. I'm confident North's skilled and multi-disciplinary workforce can enhance what already is a striking and contemporary development."
James Barrack, managing director of Knight Property Group, added, "On this occasion, being that it is such an iconic building, it was important that we got a contractor we could trust to deliver on time and the quality that is required. We have worked with North Group for a number of years on several projects and believe that they have always delivered the highest quality."
Headquartered in Aberdeen, North Group specialises in the new build and complete refurbishment of both offshore and onshore commercial premises. Across its five divisions – North Offshore, North Contracts, North Joinery, North Create and North Modular – the company continues to expand its expertise to meet the growing demands of the construction, property management and repair and maintenance sectors.