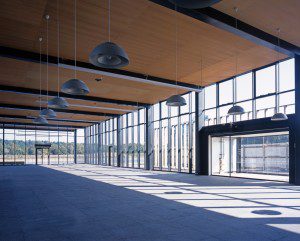 A series of new attractions, activities and investments at Loch Lomond Shores are reaping rewards for businesses located within the VisitScotland 5 Star attraction at a time when the hugely popular attraction's flagship unit is seeking a new tenant.
Opened in 2002 Loch Lomond Shores enjoyed 1.2 million visitors in 2014, a 3% increase on the previous year and has seen average sales figures for quarter 1 in 2015 double from the same period last year.
Tenders are currently being sought for the newly available two-storey 728 sq m contemporary glass space, which is one of the flagship units in the development. Owners Loch Lomond & the Trossachs National Park Authority are seeking a hospitality or retail provider to add to the tourism hub which has recently announced the successful launch of Treezone – a 40ft high adventure course.
This Easter saw the opening of TreeZone Aerial Adventure Course at Loch Lomond Shores from the same team behind the 5 star rated TreeZone in Aviemore. It is expecting to attract more than 13,000 visitors each year to try out the 90 meter long zip wires, balance beams and tight ropes constructed throughout the tree tops along the course which has stunning views up the Loch.
The opportunity comes at a time of massive inward investment in the area which has included the creation of new activities and facilities including a 29-bedroom hotel, pub and restaurant and a new pontoon from which both boat cruises and Water Bus services can dock; a move which is expected to double the number of coach visitors over the next year.
Loch Lomond Shores has also secured a number of high profile events including one of Europe's largest open water swimming events – which last year attracted 2,500 participants. In addition to a regular calendar of events including popular bi-monthly farmers markets, the venue is building on the success of the hugely successful Springfest, which attracted a record 30,000 visitors, by celebrating the 10th anniversary of the Loch Lomond Food and Drink Festival, which it believes will attract even higher visitor numbers.
To meet the needs of growing visitor numbers there is an opportunity to provide a hub where top quality, locally produced food and drink can be enjoyed, and it is hoped that the flagship National Park owned building will deliver just this. With views of the loch and easy access to the various outdoor pursuit attractions available on site, Park Authority owners envisage a quality catering facility combined with an experience that welcomes visitors to the area in the contemporary and flexible open plan building.
Head of Visitor Experience at Loch Lomond and The Trossachs National Park, Mairi Bell explained, "We think this is a golden opportunity for an operator who understands the needs of our visitors to embrace the National Park's values and incorporate them into this new venue. Our visitors want to be inspired by their visit and experience the best of what Loch Lomond has to offer. Food and drink is a huge part of the visitor experience and there are opportunities for a new business to embrace the existing family market and new visitors to the Park.
"The recent investments made by Loch Lomond Shores has seen them further develop experiences for visitors, allowing any new business to maximise exposure of their new venture to an ever increasing footfall."
Listed by VisitScotland as the second most visited free attraction in Scotland for the past two years, Loch Lomond Shores is already a successful retail location, featuring a wide variety of stores, including clothing, handmade crafts and jewellery and other gift outlets, all sharing the spectacular, uninterrupted views of Loch Lomond and Scotland's first National Park.
Jenners, part of the House of Fraser Group, has been at Loch Lomond Shores since it opened in 2002. The store is consistently one of the highest performing across the entire House of Fraser group. Manager Alison Smith has high hopes for their current rankings, she said, "Being at Loch Lomond Shores is something we are very proud of. Things have been going magnificently for us here; we see year on year growth, increased customer footfall and visitor spend. We are hoping to hear soon if we are the number one performing store across the group again."
Alison explained that although there are an ever increasing number of tourists coming to Loch Lomond Shores, there is a healthy mix of local custom flooding through their doors also. She continued, "Around 70% of our turnover comes from customers within a 30 minute drive of the store. This is a very strong base of repeat, dependable custom. The further 30% of tourism traffic we also receive makes for a consistently high-performing store; which is fantastic.
"All of these additional activities, events and facilities Loch Lomond Shores have added to the site has helped grow our numbers. We are excited to see what the impact developments such as the new pontoon and the Treezone adventure area will have. As a retailer, we are in a privileged position operating within a space that is also a hub for tourism and outdoor activity that is also gaining regular investment in expansion and improvement."
For more information on the Gateway Centre and to register interest visit www.investinthepark.org. Tenders are welcome from 16 May and it is anticipated that an operator will be appointed in July 2015 with a view to opening in spring 2016.