By Ross Mickel, Managing Director of Mactaggart & Mickel Timber Systems
IT'S no surprise to anyone in the construction industry that our trade is currently facing a skills gap.
Many are reporting labour shortages across all main trades, with skill shortages hampering sector growth substantially. As identified in the 'Skills Needs of Specialists in Construction' report published by the CITB in June 2013, timber frame erection is one of the specialisms facing skills deficiencies, with employers and trade associations alike citing it as an essential area of improvement.
The possible causes of this skill gap are numerous; in fact just over half of employers think there are no specific reasons at all. However, when asked their thoughts as part of the report, the most highly ranked reasons were lack of both suitable and convenient specialist skills training courses and lack of recently recruited staff with experience.
Training opportunities are accessible across the sector, however for the timber trades there are very specific requirements which need to be addressed in order to deliver that vital flow of new talent we need to thrive. One of the key priorities is apprenticeships.
As we prepare to move into the next stage of post-recession recovery, it is crucial to recognise apprenticeships are the key to effective training within our industry. I'm concerned that with few dedicated training programmes for the timber trade and the number of years required to develop the next generation of skilled workers, our industry is going to be left without the necessary qualified workforce.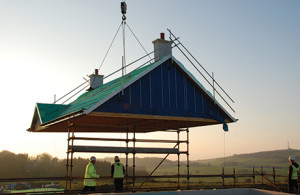 It is encouraging to see the launch of the new Apprenticeship Standards which cover some of the main elements of construction, but we require detailed guidelines for timber systems. With the current Timber Frame Erection Apprenticeship (SVQ Level 2) not covering the offsite manufacture of timber systems and the existing new standards being less relevant to timber frame manufacturers, I'm hoping we will see dedicated guidelines and courses for our trade as more developments are made over time.
Apprenticeships are designed to be rigorous and responsive to employers' needs; a specialised trade requires a specialised apprenticeship programme, and as it currently stands we are leaving intakes of students who require further training in the necessary skills and qualifications needed to drive the timber frame sector forward. An issue which is especially pertinent when addressing the skills gap currently faced by the construction sector.
At Mactaggart & Mickel Group, we recognise for businesses to grow and economies to flourish, skills development has to be at the heart of recovery. With a stark warning issued by the CITB that more than 400,000 people are set to retire in the construction sector in the next 5-10 years taking with them a wealth of expertise, it is vital we capture the invaluable knowledge and insight of colleagues who have years' of experience under their tool belt.
As employers we must be ensuring that skills are passed down to younger members of the workforce through mentoring programmes. Successful companies in the wood industry rely heavily on the skills within their workforce to meet the highest of quality standards, so pre-emptive action should be high on the agenda.
Business is improving yet we still aren't seeing the level of proactive action needed to bridge the skills gap. Left unaddressed, this will continue to impact our industry; increasing workload of skilled staff, making it more difficult to meet quality standards and delaying the development of new products and services.
As employers we need to take charge, grasping the issues of quality and training by investing in the creation of training resources and nurturing talent, with the aim of benefiting the entire timber frame industry for years to come.