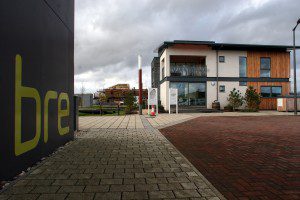 Lanarkshire site is finding solutions to challenges faced by the built environment, reports Gary Moug
DEEP in the heart of Lanarkshire, on the site of the former Ravenscraig steel works, the BRE (Building Research Establishment) Innovation Park is helping to showcase how Scotland's homes of the future might look.
The Park is part of the BRE Innovation Park Network, a global vision to establish a unique research and demonstration chain to inspire original and inventive solutions to the many challenges faced by development of the built environment around the world.
The Innovation Park acts as a testing ground for the future housing needs and energy requirements for Scotland.
As well as a visitor centre, there are nine plots available to demonstrate a variety of different products and building systems. Four of the plots are currently in use and around 5000 visitors have been through the doors since construction started on site in September 2012.
Features at the Park include porous road surfaces and paving, an innovative SUDS system and a children's playground.
More than 130 organisations are providing more than 200 products and technologies for use within the buildings or surrounding landscape.
Rufus Logan, Director for Scotland, is confident the Park will have a long-term positive impact on Scotland's built environment.
"As managers of the site, BRE set the standards," he said. "All buildings must be built to future standards, which means we're always ahead of the game.
"The Park looks at questions like how communities respond to the climate change challenge, what the problems are and how we address them.
"We also look at issues around waste, energy, retrofit, responding to changing legislation and education and learning.
"It's not about making money. The Park exists for people to engage and try things out.
"There are nine plots, with the idea being that we'll have nine different types of buildings. Each building itself is a project. It's a showcase for domestic dwellings using natural materials.
"We've had about £5 million investment from government and industry."
One of the key features of the Innovation Park is education and training. On the day I visited the site, a delegation from the Scottish Government's climate change team were taking the tour.
Local construction students have also found it a valuable resource in learning about how to build and design new homes, integrating renewables and including new technology.
"We want to raise the bar," Rufus added. "My big thing is making this Park a showcase to work with industry and government.
"The more we can open it up to people, the more exciting it will be.
"We're trying to blend science and technology with innovation and entrepreneurship. We have a global outlook, my team work with BRE Group internationally."
The original BRE Innovation Park opened in Watford ten years ago. There are other parks in North America, one currently in development in Brazil and one under development in China, working with Tsinghua University, the country's leading university for the built environment, which is due to open in June.
One of the great things about the site is that builders and manufacturers can try things out, safe in the knowledge that if something doesn't work, no harm has been done. They can then try again until they find the solution.
Rufus continued, "There are so many barriers to getting innovation into construction. New innovative products usually involve doing something different so there is the question of meeting standards.
"People need reassurance. The industry has a natural conservatism as nobody wants any comeback if something goes wrong. Builders have the challenge of building homes which are robust and last for life. It's natural to go with what you know.
"Getting innovation embedded is really hard. Something that is a marketable, approved project takes time.
"Anything we can do to shorten that or showcase products can only help.
"People move into houses and things sometimes don't work out. It might be the way they're using a product or the climatic conditions aren't right. That negative impact on innovations puts people off.
"You can throw money at a problem or innovate your way out of it. In Britain, we innovate our way out of problems.
"Innovation is playing a bigger role in industry. A good example is solar power, which is now having rapid uptake across Britain.
"Industry has embraced the idea. The Park is collaborative, non-competitive and based on research and trying things. The construction industry doesn't have the research budgets of other industries.
"We're creating this partnership approach, it's an opportunity for outsiders to come in and engage with industry.
"People like seeing something physical. They can come here and use it as a reference point."
Rufus's big hope for the future is that soon they will have more buildings completed on site. "I want more people coming to use the park," he added. "I hope we're put under pressure due to it being so successful. I hope Scottish industry gets the benefit.
"There's a real sense of achievement when each building is completed. The thrill is when you get a new plot-holder coming in."
In terms of achievements so far, Rufus points out two landmark moments. "The first was when Alex Neil MSP dug a spade into the ground to mark the start of construction. The second was in September 2012 when the visitor centre opened. To see that happen was special. I sat down with my team in 2009 – in the middle of the recession – and decided to go for it. We spent two years talking to industry. The feedback we've had has been positive. The biggest challenge is to get the right combination of plot developer and link that with supply chain and funding.
"Linking the relevant supplier with product manufacturers is vital. People trust us to pull it together.
"It's all about helping companies be successful and improve what they do."