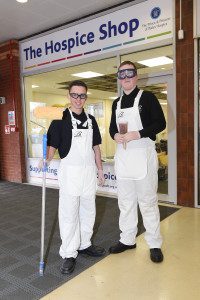 TWO apprentices from Glasgow-based construction company, City Building, have put their skills to good use to give a fresh new look to a charity shop in Govan.
Lee Raeburn (21) and Barry Scott (20) are both apprentice painter and decorators with the company and recently redecorated The Prince & Princess of Wales Hospice Shop unit at the Govan Shopping Centre in preparation for its opening.
Lee and Barry spent two weeks working on the project which involved painting the full shop unit, filling, taping and re-coating to give the store a fresh look.
The Prince & Princess of Wales Hospice provides care and support to terminally ill patients and their families in Glasgow, helping them to achieve the best quality of life possible.
This project is just one of the many ways the company has supported the hospice in recent years. City Building have also committed £10k to the brick by brick appeal, which aims to raise funds for a new hospice in the city. In addition to this the company assists with every fundraising event the hospice holds committing staff, time and resources to aid with the set up and removal of equipment.
Bobby Grant, Retail Development Manager at The Prince & Princess of Wales Hospice said, "We were delighted to have the two apprentices involved in the decoration of our new Hospice Shop in Govan which opened last month and I would like to thank them for all their hard work. It's fantastic to have the support of the community and we appreciate all the support City Building has given the Hospice."
Cllr Maureen Burke, Chair of City Building LLP added, "We are committed to engaging with the local community and helping out where we can and we have a history of supporting the work of The Prince & Princess of Wales Hospice. I would like to congratulate the apprentices involved with this project for their hard work in aid of a good cause."
City Building encourages its young apprentices to get involved with local community activities and contribute to community initiatives via its Apprentice Community Projects scheme. The scheme focuses on working with local communities to add value to facilities, as well as with local groups and events to enable others to deliver community benefits within their area.