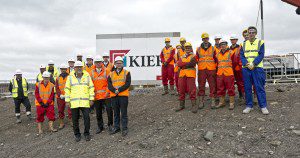 IT'S the new school campus that will shape education in the Garnock Valley for future generations.
So it's perhaps fitting that a group of young apprentices will be on site playing a key role in this state-of-the-art development.
The new £40 million joint school, community and leisure campus will serve the Garnock Valley's three main towns – Kilbirnie, Beith and Dalry – and bring together pupils who currently attend Garnock Academy, Glengarnock Primary School and Glengarnock Early Years Centre.
The campus is due to be completed by December 2017 and will include a high quality 6 lane swimming pool and leisure facilities to replace Garnock Pool and a synthetic pitch suitable for rugby and football.
Currently on-site ground work is taking place to prepare the area for the fit-out trades and that is when the apprentices will come into their own.
Council leader Willie Gibson was there to meet some of the apprentices as part of Scotland Apprentice Week 2015. He said, "This is a massive development for the people of the Garnock Valley and I'm sure the apprentices will take great pride in something of this magnitude. They are not long out of school themselves so in some ways it's very symbolic that they are helping shape the educational development of future generations.
 "I am delighted that are helping give these young people valuable experience and qualifications which will help them move forward in their careers."
 Conor Bray, 19 an apprentice steel fabricator, has been learning his trade with local company JD Pierce, a subcontractor for the Garnock campus development. "I've been an apprentice for the past 15 months and I love my work. It's been a really big part of my life and it's given me a good start and it's going to give me a great future."   
JD Pierce has 18 apprentices on site covering a variety of trades such as welders, painters, draughtsman and structural engineers all eager to develop their skills. 
Talking about the whole apprentice programme Conor continued, "An apprenticeship will definitely benefit you I would really recommend it as a career option to anyone, you can learn new skills, go to college and a trade is always something you can fall back on."
This project is being delivered with Public Private Developing Partner hub South West Scotland Limited. Chief Executive Michael McBrearty added, "Hub South West is committed to the development of apprentices across the South West of Scotland. To date 25 apprentice places have been created by hub and progression continues to be made via hub South West's Skills Academy, which works collaboratively with local SME's assisting them in the training and development of staff through apprenticeships and access to further training and learning. The Garnock Campus project will ensure the young people of North Ayrshire play a key part in the successful delivery of this exciting project." 
Brian McQuade, managing director of Kier Construction's Scotland and north-east England business, which is delivering the campus, said, "We take pride in our community focus and it's important to us that the local economy benefits as much as possible from the contracts we win. As a result of this important new development we are creating additional employment opportunities, including much sought-after apprenticeships, for local suppliers and subcontractors.
"Apprentices play a key role in securing the talent pipeline for the construction industry so it's apt that they are involved in building this state-of-the-art campus, which will, in turn, inspire young people in years to come."