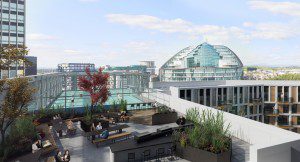 HAUS, a new Glasgow-based architecture and urban design practice is quickly gaining momentum following the approval of its first major planning application. 
The Angel Gardens development, a major regeneration project in Manchester city centre, was passed by Manchester City Council in March. 
Angel Gardens will feature 458 apartments via the private rented sector (PRS) model and will form part of the NOMA project, a 20-acre regeneration of urban land owned by The Co-operative Group and Hermes Real Estate. 
Comprising three former directors of architects 3D Reid, HAUS was founded by Jim Webster, Murray Henderson and Sandy Houston in August 2013. 
Spanning three generations, the three colleagues decided to establish their own practice after finding a common approach, outlook and method between them. Striving to return to the fundamental design processes that made them first fall in love with the trade, the three men moved out from their previous positions and back to Glasgow to form their own studio, assemble their own team and pursue the projects they believed in. 
"I think fundamentally we just wanted to go back to being architects," said Murray. "We were probably getting too far removed from the things that actually got us up in the morning and we enjoy. Having your own practice we can now make the decisions that allow us to do what we want to do and that, ultimately, make us happy."
The speed with which the practice secured the Angel Gardens development and the application was approved encouraged HAUS to revise their initial six-month business plan and review the practice on a larger scale. 
"We had a plan, but as soon as we started it's gone out the window," added Jim.    
"But these are the decisions you want to have to make. You realise that you can achieve anything. If you've got the right team around you and you're working with people that trust you, anything's possible. We want to make sure that the team we build in the studio is approaching things in the right way and it isn't just about Murray, Sandy and I."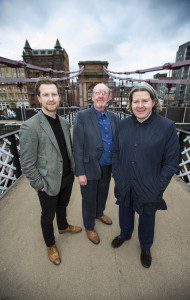 HAUS currently employs nine staff in its Merchant City studio, with a growing presence in Manchester also. 
"The practice is its culture. The people that we employ to be part of that team, to push it forward, ultimately define the culture and then inform our buildings as we design them and the way we approach our work," explained Murray.
Although the Angel Gardens project marks the first milestone development for the firm, HAUS are currently working on applications for a variety of sectors including a one-off residential project in Whitecraigs, a new hotel in Glasgow and a retail outlet in North Lanarkshire. 
The application for Angel Gardens has been submitted on behalf of MODA Living, a joint venture between developers Caddick Group and Generate Land. The development, featuring a 34-storey tower and 22,000 sq. ft. of mixed-use commercial space, is the largest PRS scheme outside of London. 
Due for completion in 2017, Angel Gardens will feature high-end tenant amenities including 24-hour concierge services, cinema rooms, roof gardens with built in BBQs and outdoor furniture and access to a multi-purpose sports court for outdoor yoga, tennis, football and basketball. 
Jim said, "Manchester is a demanding place in terms of architecture. As a city they've probably got the highest aspirations for a UK region in terms of what they want to achieve, and with that there was a certain demand and expectation over the quality delivered." 
Murray added, "One of the things about Manchester that was really important for this scheme is the growth of the density of people actually living in the city. It's what makes a city active and alive such that people want to be there and visit. Suddenly you have to have, beyond people that commute to work, more people living in the city. 
"The key thing is to ensure that we can create a building that internally provides the user with the best experience we can of city centre living. And that's everything from the flat itself to how you engage with the communal and external space and how it engages with the public also. 
"Whilst it's a single landlord managed building, it's also a building that has to open itself up at lower levels in terms of commercial uses and community stations to engage with the public and allow it to be a building for the city as much as for the people who are living within it. People of certain ages just still can't get access to property. So the idea of living in a high-end residential building with all the amenities on your doorstep included in the building you live in, as part of your rent, is hugely appealing."