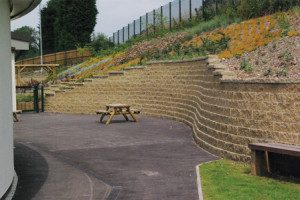 PERTH-based geotechnical specialists Maccaferri and construction materials manufacturer Acheson & Glover have announced a long-term partnership to supply engineered, segmental retaining walls throughout the UK and Ireland.
Under the agreement, Acheson & Glover will manufacture Anchor Diamond™, Anchor Vertica™ and Anchor Landmark™ masonry products for use in engineered walls. Maccaferri will act as their sole-distributor in the UK and Ireland.
Maccaferri will also supply their Paragrid® geogrid reinforcement products, providing customers with engineering and design support.
Where a "Turnkey" installation service is required, Maccaferri Construction, the company's specialist subsidiary, is also able to offer a comprehensive, professionally indemnified, design, supply and install package. Maccaferri Managing Director, Steve Miller said, "Both companies are committed to significantly growing sales for these products in both the UK and Ireland. We believe we are ideally positioned to take full advantage of improving market conditions.
"By choosing to work together in a formal partnership, Acheson & Glover and Maccaferri can now offer an unrivalled package of segmental retaining wall solutions, with market-leading product quality, design support and expertise.
"We are delighted that the engineered components for the wall systems are all made in the UK, with masonry blocks made in A&G's state of the art facilities in Northern Ireland and Paragrid ™ made in Yorkshire. This increases our local economies and reduces the carbon footprint of our solution compared to other systems made elsewhere in the world."
Stephen Acheson, Managing Director of Acheson & Glover added, "Acheson & Glover's strong reputation as a high-quality producer of concrete products will complement Maccaferri's equally impressive reputation for being experts in the design and installation of retaining structures.
"This closer working relationship between both companies is already paying dividends in Northern Ireland, with several large contracts being secured. Both organisations are fully committed to growing sales further in 2015 in all regions."
The agreement has been reached with the full support of Anchor Wall Systems who are licensors of the various Anchor products.